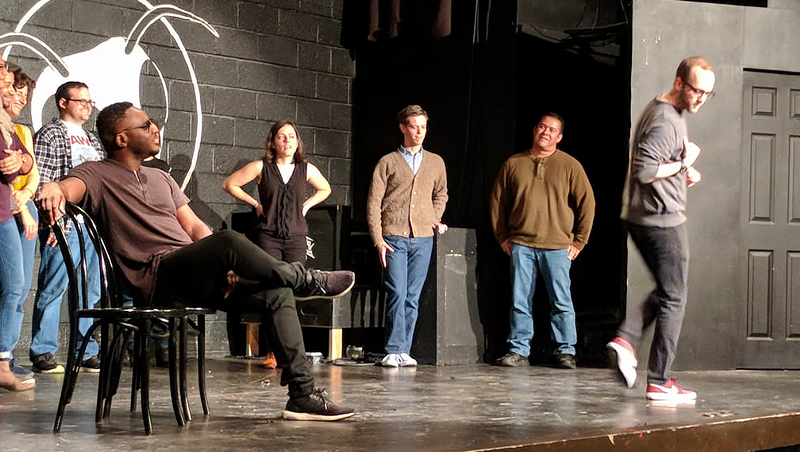 Hamtramck's Planet Ant Theatre has come a long way in its almost 25 years of history. The most recent development for the Caniff Street mainstay has been the acquisition of the old social hall and bar across the street. It offers a more commodious space for larger shows, larger audiences, and cabaret seating, and the legal bar allows patrons to quaff while they laugh.
Of course, a small theater acquiring a large theater has meant some growing pains. Nothing life-threatening, of course, but with roughly four times the space to maintain, let alone upgrade, money is as tight as it is welcome.
And so the theater draws on its robust improv tradition as the theme of what sounds like a crazy fundraiser: a 25-hour marathon of improv. Usually, marathon-style funding asks donors to pledge a certain amount per mile walked, for instance. This marathon will collect for each consecutive 15-minute block of improv. It all begins promptly at five minutes after midnight on Nov. 12, and the giggles and guffhaws will last around the clock and finish up at 1 a.m. on Nov. 13.
The marathon, called the "Improv-A-Thon Challenge," is sure to be quite a spectacle. Will they be utterly slap-happy by Monday morning? Will they even make it? The rules seem pretty strict, with performers forced out if they fail to be onstage at the end of a break, before the end of a break, or if they fall asleep on stage. There's room for plenty of unintentionally funny stuff to enliven the show. How long can they go, folks?
"As long as humanly possible," says Planet Ant stalwart Mike McGettigan. " I'm sure around Hour 6 things are going to start to get weird. I can't imagine how weird it'll be on Hour 18."
The Improv-A-Thon Challenge begins promptly at 12:05 a.m. Nov. 12 and will end at 1 a.m. on Nov. 13, at the Ant Hall 2320 Caniff Street, Hamtramck; 313-365-4948; improv artists are welcome to register for this event.