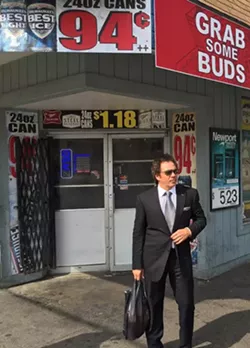 Tom Gores is putting on for Flint. Thursday morning the Detroit Pistons owner
announced his plans
to raise at least $10 million in aid for Flint water relief efforts.
Gores, who grew up in suburban Flint, said government support and emergency funding isn't going to be enough, especially not in the long-term, and he's willing to put his own money up if he has to.
"Flint was once a cornerstone of American industry that gave a lot to this country. We need help now more than ever and ask that people from coast to coast continue stepping up," Gores said in a statement.
The billionaire investor's going to make use of his own Rolodex to solicit cash and is establishing a task force to rally support, identify needs, and make sure any money raised is being spent where it's needed most.
"I am committed to helping drive that effort. I grew up in Flint, my family has strong roots there, and I believe in the people who live there," he said. Gores' family moved to Flint from Israel when he was four and his father owned a grocery store. Gores graduated from Genesee High School and MSU and went on to found Platinum Equity, a global investment firm that's been making people rich since 1995. The Pistons and Palace Sports & Entertainment became his for $325 million in 2011.