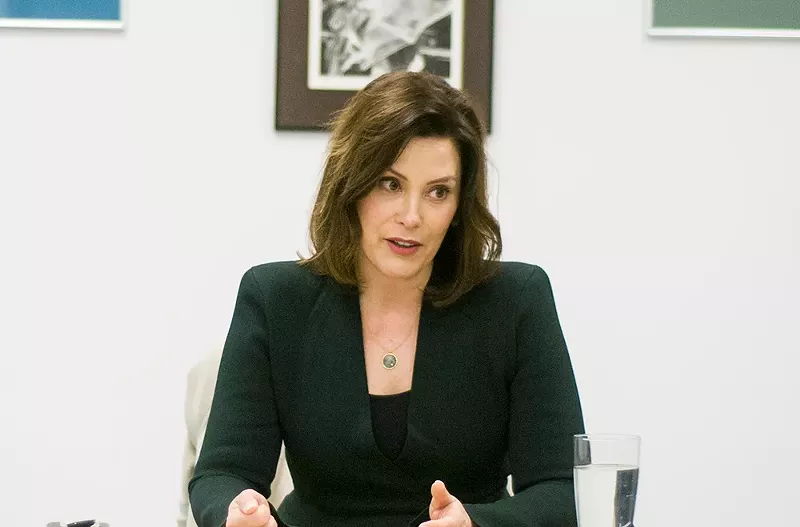 Michigan Gov. Gretchen Whitmer is proposing a regressive .45-cent-per gallon gas tax that would hit the state's poorest residents the hardest. The plan would raise close to $2.1 billion for road repairs, but the decision to ding residents comes after the
state cut business taxes by about $2 billion
over the last decade.
To be clear, we fully support raising taxes to fix the roads. However, the state should be collecting more money from corporations, not people, and especially not low-income residents. If the tax is fully implemented, it would increase the cost of a 15-gallon fill up by about $6.75. For a motorist who fills up once per week, that's a tax increase of about $350 annually or roughly $30 per month.
That's a
doable
— if not ideal — price for some middle-class residents. But it's a new problem for those who can least afford to pay more — those who earn no money because they're unemployed, living off of social security, earning low wages under the table, or simply have no income.
Residents who earn a high enough salary but struggle with daunting levels of student loan or medical debt will also feel financial pain. The average millennial
holds about $36,000 in debt
. A single college grad on a teacher's or social worker's salary paying on that debt level, a car payment, $750 in rent, an
ever-increasing utility
bill and other costs will struggle to pay an additional $30 per month.
Inexplicably, Whitmer is also choosing to hit her base the hardest. Black Detroiters helped put her in office, but black Detroiters — who make up 80 percent of the nation's poorest big city — are also among the state's lowest earners. It's also worth noting that Detroiters already pay the highest auto insurance rates in the nation, lower-income residents often drive older cars that are less fuel efficient, and the increase would make Michigan's regressive gas tax the nation's highest.
Whitmer is proposing to somewhat offset the tax by increasing the Earned Income Tax Credit, which former Gov. Rick Snyder
eliminated in 2011
. That may be nice, but the EITC is a tax credit for the working poor, not a tax credit for those with high levels of debt, no income, and those generally struggling the most.
There's also a case to be made that the EITC should be reinstated as a matter of principle, not as a counterweight to a regressive tax. In essence, Whitmer is leaving in place Snyder's tax increase on the poor.
And that's in line with the larger budget, which preserves the 2011 Snyder-led tax burden shift from Michigan businesses to residents. Snyder and the GOP in 2011 killed the Michigan Business
Tax,
and paid for it by increasing taxes on senior citizens and the working poor.
Michigan businesses collectively
paid $0 in taxes in 2016
and little in each year since. According to a
Bridge
analysis, business taxes represented 12.4 of the state budget in
2012,
and now represent 1.9 percent. That amounts to a loss of about $2 billion in revenue. Whitmer's budget includes some adjustments that would slightly increase business
taxes,
and would lower taxes for senior citizens, but it's still largely residents who are being asked to pay for the lost revenue.
"No one likes to raise taxes," Whitmer told lawmakers on Monday. "I know it's hard, but the hard truth is we've got to get to work. Every day we don't, we are jeopardizing our economic future, wasting our money and endangering our people."
That may be so, but the harder truth for a politician is that the ethical thing to do is to raise taxes on Michigan businesses, not its residents.
All that said, Whitmer faces an obstacle that Snyder didn't — a Legislature controlled by the opposition party. It's unlikely that her budget gets through as is, and there's no way that the GOP would approve an increase on business taxes. It will be interesting to see what Whitmer, a business-friendly career politician, does with the tax code should she ever work with a Democrat-controlled Legislature.

Stay on top of Detroit news and views. Sign up for our weekly issue newsletter delivered each Wednesday.