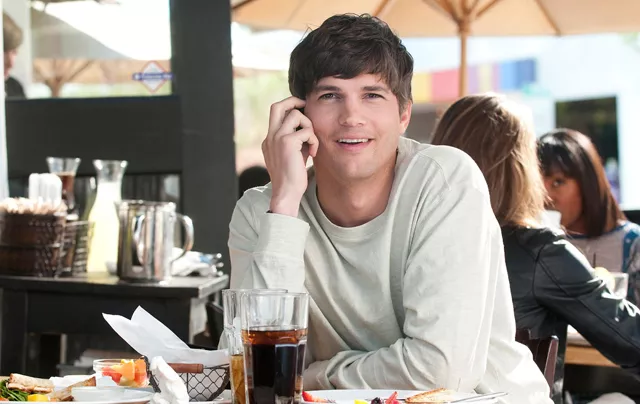 No Strings Attached
GRADE: C
Think of your most sexually attractive friend. Now imagine meeting him or her at random hours for tawdry sex month after month, without developing jealousy, attachment or real feelings. Plausible? Nope, but such is the snag for a potentially enjoyable comedy, which the likable, talented cast struggles fiercely to sell. The real challenge is if you can remember the disposable title by the interminable time it takes for the obligatory extra scenes to run over the closing credits.
No Strings Attached is the latest rom-com with a solid pedigree eager to subvert the form but instead gets tangled in its gooey trappings. Natalie Portman, classy lady that she is, has largely avoided the chick-flick morass while her goofball co-star Ashton Kutcher has lately been relegated to nothing but date-night twaddle. These stars are an-opposites-attract duo, with a long, tortured history of almost dating that goes back to summer camp. They first reunite at a raging U-M kegger (which looks a hell of lot more like a State party), then five years later when they've started separate careers in L.A. Emma is an ER resident working insane hours, and Adam is a PA on a high school musical-like TV show. The two flirt for awhile, and due to Emma's neurosis, commitment phobia and dead daddy issues, they decide to become "friends with benefits," no spooning please. He agrees to this because he's basically a big puppy dog. Of course, these two are head-over-heels for each other, their friends all know it and we know it, but it's just a matter of enduring insufferable, phony drama for nearly two hours.
Former king of rude comedy Ivan Reitman doesn't get his money's worth for the R rating, with a few suggestive bedroom moments and spurts of mildly dirty talk, but it's about a fifth of the raunch the Judd Apatow crew gets away with. There are winks and nods to his heyday (there's a Meatballs poster in Adam's apartment), but, sadly, Bill Murray never shows up to hurl spitballs.
The leads are cute together — Kutcher is surprisingly tolerable and Portman is graceful — but the film forces us to try to care about side characters the script itself can't muster any interest in. Kevin Klein is a hoot as Adam's irresponsible, skirt-chasing dad, still cashing in on fame from and Alan Thicke-like '80s sitcom, but his subplot is distracting. Greta Gerwig and Lake Bell, quality actresses who can carry their own flicks, are relegated to second- and third-string parts, with The Office's funny Mindy Kaling earning the Judy Greer memorial trophy as the horny best friend. The bench is so deep that SNL cast member Abby Elliot gets trotted out only to do her Drew Barrymore impression, strip to her bra and kiss a chick — and Adam takes her home in a fit of jealousy. It's nice Reitman owns the luxury of attracting talent, if only they had better material. Are said stars all so eager to work with him that they'll do any middling, degrading bit part? Do all these people think this is 1985?