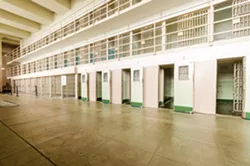 Prison officials and inmates found maggots in inmates' food on three occasions in recent months, and moldy food and "crunchy dirt" in separate incidents.
That's leading to more protests and security problems in Michigan prisons, the
Freep
reports, but these issues are nothing new.
We first reported on the problems with Trinity – the Florida-based private food vendor with which the Michigan Department of Corrections contracts for food service – in our February 2016 story "
Something still stinks in Michigan and Ohio's prison kitchens
." It revealed that Trinity was shorting inmates on calorie counts and serving inedible food.
All this comes after the MDOC cancelled its contract with its previous private food service company, Aramark, for similar issues in July 2015. At the time, the state said it ended the contract because Aramark overbilled the MDOC by $3 million. But that followed disturbing incidents in which the company served food tainted by maggots on multiple occasions, knowingly served rotten meat, ordered inmates to serve food pulled from the garbage, handed out food on which rats nibbled, and served moldy food. The substandard ingredients and small portions led to prisoner protests and lawsuits.
The latest issues with a new company serve as more evidence that contracting with private vendors for prison services doesn't work and ultimately destabilizes prison yards.
In March 2016, a month after our initial story ran, inmates
protested poor food service
and living conditions at the Kinross Prison in the Upper Peninsula, and in September 2016 a Trinity employee was fired for making out with an inmate.
Continued issues with food and living conditions late last year led to protests and what was characterized by the MDOC as
a riot
in Kinross (though it should be noted that prisoners have a different version of events than the MDOC).
Records that the
Freep
obtained through a Freedom Of Information Act Request show that MDOC officials recently "placed one inmate in segregation for 'inciting a riot' over unhappiness with the food service and a large number of prisoners stayed away from the chow hall at the end of August as a form of protest."
The other inmates avoided meals over "poor-quality food and constantly running out of food with inadequate substitutions," as well as "accusations of Trinity staff talking in an aggressive and disrespectful manner to prisoners when legitimate concerns have been raised."
Poor food quality and small portions
ignited a 2009 prison riot
in Kentucky that left eight guards and eight prisoners injured. When Michigan inmates received ketchup packets instead of sauce with their noodles on spaghetti day in 2015, they rioted. Again,
these sort of issues aren't rare
.
There are also problems with Trinity's employees. The MDOC hit Trinity with $3.8 million in penalties through August for unauthorized food substitutions, inadequate staffing, and other contract violations. MDOC spokesman Chris Gautz told the
Freep
that 176 of Trinity's employees have been banned from prison property for violations such as smuggling of drugs or other contraband, or "overfamiliarity" with prisoners. The state banned 186 Aramark employees during its two year tenure.
Interestingly, Gautz and prison reform advocates point to the same issue as the problems' source.
"The majority of the problems the vendor has had can be traced back to staffing," Gautz told the
Freep
on Friday.
"When you don't have the correct amount of staff, or the ability to retain staff so that you have people with experience in those positions, these problems can occur. That is why we have the contract monitors in place and whenever the vendor's staffing is not adequate, they receive a financial penalty."
But the private service model is flawed in that way. The MDOC uses private vendors because they are cheaper than unionized state employees, but saving money in prison food service is only accomplished by reducing food quality, reducing portions, or cutting staff —the root of Aramark's, Trinity's, and all other private prison vendors' problems.