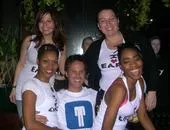 Located in heart of downtown Pontiac on the corner of Pike and Mill St.
Parking: Free parking on side of building, city parking across street.
The Mill Street Grille is located on the corner of Pike St. and Mill St. Mill Street Grille was formerly the staple of the elegant Walden Hotel, built in 1927 - which boasts having Dr. Martin Luther King Jr. as a guest! With its rich red-colored walls and cherry wood, the bar pays tribute to the past while looking forward to a renewed life in up-and-coming downtown Pontiac. It serves as a local neighborhood bar and grill and much more. It's a fun, spirited, clean-cut bar with old music and new tunes. Something is always going on to keep you entertained, whether it is Monday Night Football with 20-cent wings, Karaoke Wednesdays, or live music on the weekends. A great place to see Jazz, Blues, Rock and Techno Soul. Feel comfortable in a suit or jeans and a t-shirt. A highly recommended destination essential to meet the area's most colorful characters. The new full-service menu offers a variety of appetizers, soups and salads, sandwiches, pastas, and ribs.