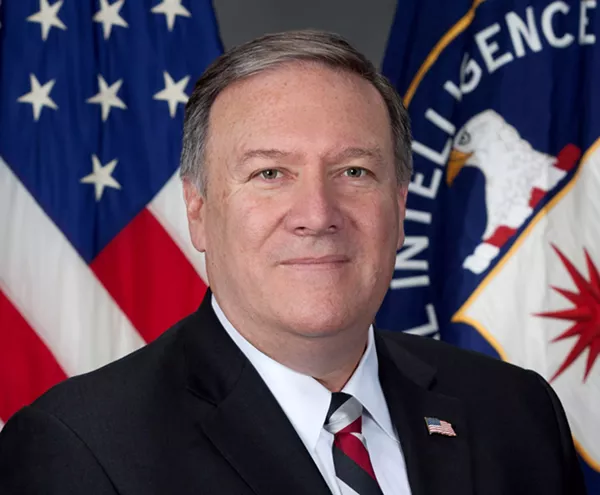 In the latest of many staff shakeups in President Donald Trump's White House, Secretary of State Rex Tillerson was abruptly ousted Tuesday, to be replaced by CIA director Mike Pompeo. The decision was made so abruptly that Tillerson hadn't even spoken to the president prior to the announcement, according to
The Washington Post
.
Islamophobe
But it's important to note that Pompeo has a long history of anti-Islamic sentiments, and has often painted the War on Terror as a religious war between radical Muslims and Christians.
As
Slate
reported
back when Pompeo was then Trump's CIA pick, "America's CIA will shortly be run by a man who appears to view American foreign policy as a vehicle for holy war."
Slate
reports of a 2015 event held in Wichita, where Pompeo — then a Kansas Congressman — headlined a "God and Country Rally":
"To worship our lord and celebrate our nation at the same place is not only our right, it is our duty," he began. Pompeo's speech was a mishmash of domestic culture war callouts and dark warnings about the danger of radical Islam. He cited an inflammatory prayer that a pastor named the Rev. Joe Wright once delivered before the Kansas State Legislature: "America had worshipped other Gods and called it multiculturalism. We'd endorsed perversion and called it an alternative lifestyle." He lamented government efforts to "rip faith from our schools" and then segued immediately into a discussion of the jihadi threat: "This evil is all around us." Pompeo concluded by describing politics as "a never-ending struggle … until the rapture."
As
The Intercept
reports
, at a 2014 event also held in Wichita, Pompeo the Congressman acknowledged the "threat to America" was a minority of Muslim zealots, but framed the opposition as a Christian duty:
"They abhor Christians," Pompeo said, "and will continue to press against us until we make sure that we pray and stand and fight and make sure that we know that Jesus Christ is our savior is truly the only solution for our world."
Pompeo's Islamophobia goes deeper. During his first bid for office in 2010, Pompeo's campaign reportedly tweeted a link to a blog post that said his Democratic opponent, Raj Goyle, "could be a muslim a hindu, a buddhist, who knows … One thing's for sure … goyle is not a Christian!" (Pompeo apologized, blaming the tweet on a staffer, but reportedly did not fire the staffer, according to
The Intercept
.)
There's more: Like the fact that, like Trump, Pompeo has been a supporter of the CIA's torture program and Guantanamo Bay. As a Congressman, he was a frequent guest on Frank Gaffney's radio show, a man who was so "famously paranoid" that he was "disinvited from the right-wing Conservative Political Action Conference after claiming that the Muslim Brotherhood had infiltrated its parent organization, the American Conservative Union,"
The Intercept
reports.
Following the Boston Marathon bombing in 2013, Pompeo condemned Muslim churches and organizations for failing to condemn the attacks swiftly enough. He painted with a broad stroke, effectively condemning all Muslims. "The silence in the face of extremism coming from the best-funded Islamic advocacy organizations and many mosques across America is absolutely deafening," he said. "It casts doubt upon the commitment to peace by adherents of the Muslim faith."
Tillerson, a former ExxonMobil executive, was ousted amid reports of disagreements with the Trump administration. In a major break from Trump, Tillerson has said he believes Russia meddled in the 2016 U.S. presidential election and poisoned a British spy. He had also expressed frustration that he was left out of the loop regarding Trump's planned meeting with North Korea leader Kim Jong-Un.
Pompeo's replacement at the CIA, Gina Haspel, has a history
tied to the agency's use of brutal interrogation methods
on terrorism suspects.
Council for American-Islamic Relations' National Executive Director Nihad Awad released a statement condemning both appointments.
"Those, like Mr. Pompeo, who have expressed Islamophobic views and have been associated with an anti-Muslim hate group, or like Ms. Haspel, who personally oversaw the torture of detainees, should have no role in our nation's government, let alone at the highest levels of policy-making," Awad says. "These appointments have the potential to harm our nation's image and our relations with key players in the international community."
Stay on top of Detroit news and views. Sign up for our weekly issue newsletter delivered each Wednesday.