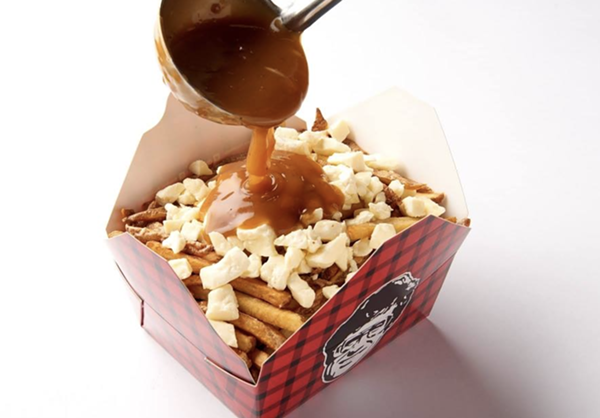 Over the last decade, Canada's greatest culinary export, poutine, began appearing with regularity on some of the region's hipper establishment's menus.
For the uninitiated, poutine is essentially a jumbled mound of fries, gravy and cheese curds that's heavy and unhealthy - but well-loved - Canadian grub. In fact, it's so well-loved that an entire restaurant dedicated to the dish, Smoke's Poutinerie, is in the works in Ann Arbor.
MLive
reports Smoke's, a Canadian franchise with 81 North American stores, is building out the former World of Beer space and will feature a restaurant offering customizable poutine entrees, along with a very Canadian-named bar - The Beaver Trap.
The latter will have 40 beers on tap, and the 70-seat space is expected open in May.
We took a look at the menu, and, well, Smoke's demonstrates that you can mix in just about anything with fries, gravy, and cheese curds, and it (could) be good.
On the weirder end of the spectrum, you'll find Korean Poutine with flatiron steak, sambal, Korean barbecue sauce, and green onions. Or the Steak, Beans N' Weenies with flatiron steak, baked beans, and weenies. Or the Perogy Poutine with pierogies, sour cream, and bacon.
There is, of course, also the more standard options like the Smashed Traditional with Smoke's signature gravy and Quebec cheese curd. For vegetarians, Smoke's offers a list of items like the Rainbow Poutine with guacamole, sriracha, sour cream, and cheese sauce.
Check out the website
here
. Smoke's is located at 1300 S. University Ave. in Ann Arbor.
(
An earlier version of the article stated that Smoke's is Michigan's first poutinerie. It is not, and we corrected the story.
)