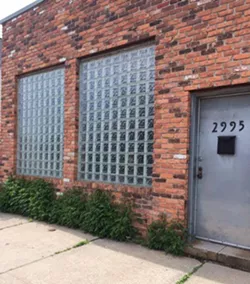 Michigan native Ed Sura, chef at acclaimed, farmhouse-chic restaurant Perennial Virant in Chicago, is planning a homecoming next week when he stops in at pop-up venue Yemans St. in Hamtramck at 7 p.m., July 25. Sura, who's worked with some of the biggest names in the culinary game, including Michelin-starred chef Graham Elliot and James Beard Award-nominated chef Paul Virant, will prepare a five-course meal for guests who've purchased
advanced tickets for $75.
For another $25, they can sit at the chef table, which includes beverage pairings with each course.
On the menu:
Foie Gras Mousse with raspberry, pistachio and oat crumble, and sorrel, Confit Pork Jowl with green goddess, fried grits, cauliflower, and smoked eggplant, S'mores with frozen cocoa mousse, graham cracker, beer jam marshmallow, and wild rice.
Yemans St., founded last year by Matt and Corrie Tinker, seems to have a knack for attracting big name culinary masters to their unmarked space in Hamtramck. Other big names to have graced Yemans St.'s kitchen include The Root's James Rigato, Jay Gundy of Cork in Pleasant Ridge and Brandon Edwards, who helped with the launch of Antietam.