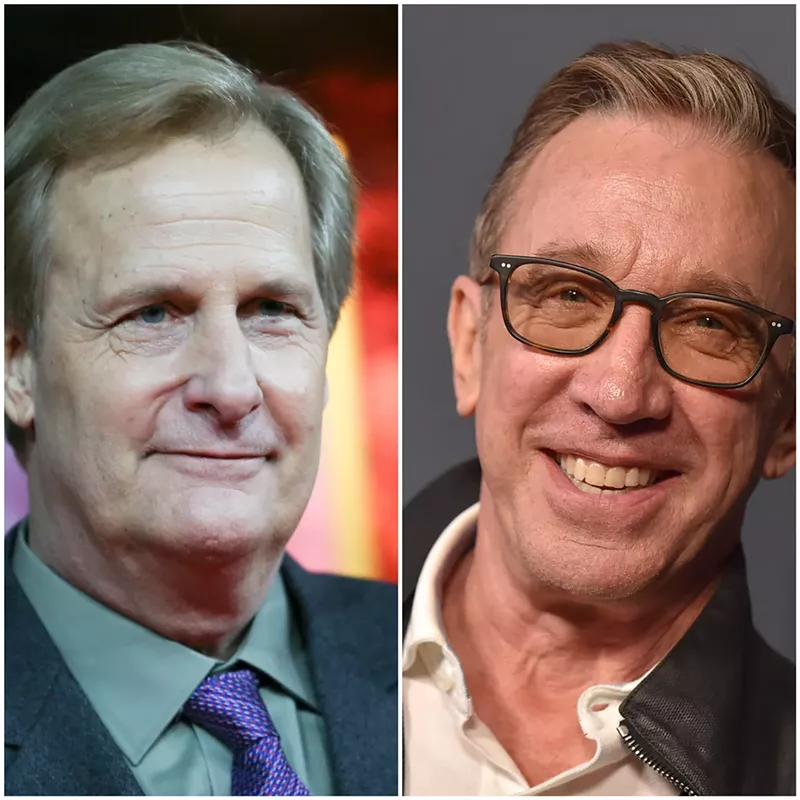 One is an esteemed and award-winning actor and musician who, yes, famously starred in a movie where
his dimwitted character had an explosive fecal emergency
while wearing a bolo tie; the other, the voice of beloved children's space toy Buzz Lightyear
in Pixar's
Toy Story
franchise, and who, as a white dude, has
complained about not being able to use the n-word
and once compared
being a conservative in Hollywood to living in 1930s Germany
.
Where native Michiganders Jeff Daniels and Tim Allen come together, er, sort of, is in lending their voices to political ads — though, of course, for opposing parties and candidates.
In an upbeat
30-second ad titled "Together" that aired on YouTube
Tuesday and is slated to begin airing on local television Wednesday, Allen lends his "Pure Michigan" voice in support of Republican U.S. Senate candidate John James.
"Michigan, a place where people respect each other, love each other," Allen says. "Michigan — that's John James, defending our country, offering a healing hand, creating jobs that matter."
Michigan: our values, our people, our home. That's what I'm running to protect. We take care of each other & it's time for a leader who will take care of us & put people before politics. We are blessed to live in the greatest state in this nation.

Mission first, people always.🇺🇸 pic.twitter.com/o38g3xdaHn

— John James (@JohnJamesMI) October 28, 2020
This isn't the first time the
Home Improvement
star — who also attended President Donald Trump's 2017 inauguration and once starred in a regrettable Native American stereotype-laced children's comedy
Jungle 2 Jungle
— has lent his support to a presidential candidate. In 2016,
he was in favor of former Ohio governor John Kasich
, who, as
the Detroit Free Press
notes, has
endorsed Biden
this year.
"Politically I'm kind of an anarchist if you see my stand-up," Allen told
Entertainment Weekly
in 2018.
"I'm for responsible government that actually does what we pay them to do, I've worked different jobs, and I've had a colorful past, and I pay a lot in taxes. I wish we got more for our money."
Daniels, an outspoken critic of Trump — just listen to his recent folk song "
Trumpty Dumpty Blues
," which drags the president's coronavirus response — takes a more solemn approach for his
two-plus minute pro-Biden
#AmericaNeedsMichigan ad. The spot was produced by Don Winslow Films and focuses on "Midwestern values" and the struggle of blue-collar workers and various industries suffering under Trump's America.
Using footage of farmers, empty sports arenas, factory workers, food assistance lines, and shocking images of body-bags piling up at a Detroit hospital during the beginning of the coronavirus crisis, Daniels takes aim at Trump, never by name, but by his laundry list of misdeeds.
"Here in Michigan, we don't believe in paying off porn stars to keep their mouths shut about who we really are. And we don't think much of a man who disrespects women," says Daniels, revealing an image of frequent Trump target Gov. Gretchen Whitmer seated at a coney island. "In fact, we don't think he's much of a man at all."
The video spot also features footage of Biden receiving the Medal of Freedom from President Barack Obama, comforting children, and honoring U.S. servicemen and women while wearing a face mask.
"I'm Jeff Daniels. I grew up in Michigan. Lived here most of my life. Still do," he says. "I voted for Joe Biden."
Stay on top of Detroit news and views. Sign up for our weekly issue
newsletter
delivered each Wednesday.