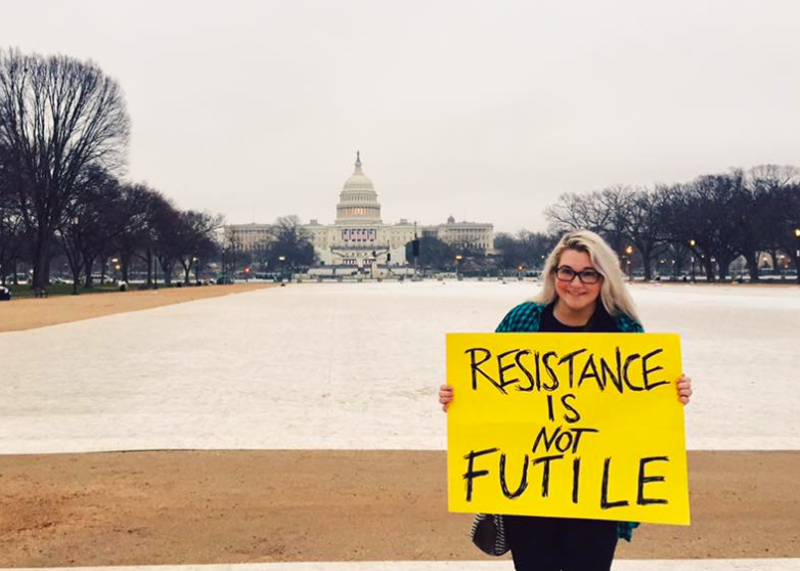 The last two and a half days of hearings for Supreme Court nominee Brett Kavanaugh have been repeatedly punctuated by the shouts and subsequent arrest of protesters who view his possible confirmation as a national emergency. From Tuesday through Wednesday, 73 people were arrested for making their voices heard. One of them was Stephanie Kenner, a 30-year-old political organizer and human rights advocate from metro Detroit.
"I really think if there's ever a time to put your body on the line this would be the time," says Kenner. "I know it's a long shot at this point to prevent this confirmation, but we can't treat it as a foregone conclusion and not try."
If confirmed, Kavanaugh — who we now know has
challenged the idea of Roe v. Wade
as "settled law of the land" — would solidify a conservative majority on the 9-member court, likely turning it into a rubber stamp for the Republican agenda for years to come. For Kenner, Kavanaugh presents a threat to the public not only for his views on abortion but on gun reform and health care as well.

"He's helped overturn a ban on assault rifles in D.C. ... He wouldn't
shake the hand of a Parkland victim's father
," she says. "And health care — that was already such a hard-fought battle ... the person I went through processing with [to enter the Senate chamber] was a young man from New England who has a disability and is in a wheel chair. He was so concerned his health care is in peril if this goes through."
Democrats have warned Kavanaugh could be a deciding vote if a
Texas lawsuit against the Affordable Care Act
makes its way to the Supreme Court.
Kenner entered the Senate chamber Tuesday as part of a rotating group of members of the public allowed to sit in on the proceedings. At the time, Sen. Lindsey Graham was questioning Kavanaugh, not about anything substantive, Kenner says, but about what he told his daughters about all of the disruptions.
"[Graham] was so disappointed ... like 'What did you tell them' — as if protesting was the worst thing they could have witnessed," she says. "So I stood up and I said, 'I hope that you told them they were hearing the voices of democracy!'
"I had planned to go on and say that this entire hearing is illegitimate — that the nominator, President Trump, is in this ongoing investigation, but that was all I got to say before the police dragged me out of there."
Kenner, a Rochester native who, until recently, lived in Detroit, attended the hearing with support from the Women's March organization. The group has been covering bail for women who want to speak out against the judge. Nearly all of the protesters arrested so far have been charged with disorderly conduct. Kenner says her bail was $35.
Despite the raucous disruptions, Kavanaugh has a solid chance of being approved by the Senate, where 51 members are Republicans. The only Republicans seen as possible votes against him are
Sen. Lisa Murkowski
of Alaska and
Sen. Susan Collins
of Maine.

Stay on top of Detroit news and views. Sign up for our weekly issue newsletter delivered each Wednesday.