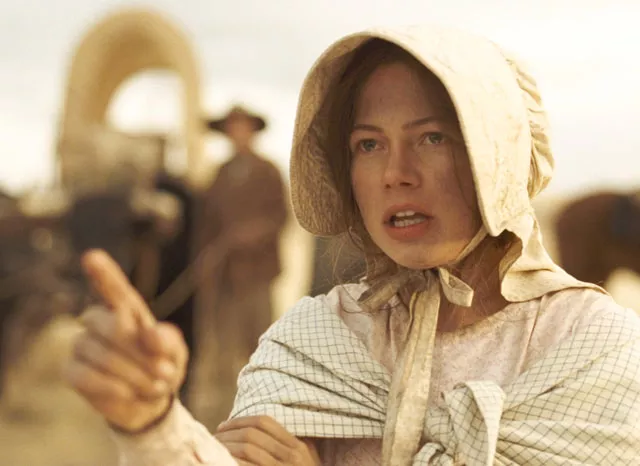 Existential, bleak and unafraid to push its characters and the audience past the breaking point, Meek's Cutoff is an extraordinarily brave and confounding work, bound to start the sort of dinner-table fights that most of Hollywood is terrified to provoke anymore. A period piece in form and a throwback in every other sense, it invokes a time when movies were rarely thought of as "franchises" and were allowed to live and breathe and meander at their own speeds. The deliberately slow, contemplative pace will challenge some overstimulated modern viewers, but if the copyright read 1974, it would be hailed as a masterpiece.
As it is, Meek's Cutoff is some sort of marvel, a film about faith, persistence, fear and communication across a glorious backdrop of primal America. The story is elemental: In 1845, a tiny group of settlers and their hired guide continue an arduous trek through the badlands of the Oregon trail, facing heat, dust, dwindling resources and worst — despair. The brilliant Michelle Williams plays Emily Tetherow, the film's moral and practical center; the level head who keeps the group on the path, even when they doubt that path is leading to anything but doom. She's perpetually at odds with Bruce Greenwood's Stephen Meek, a crusty, paranoid backwoodsman full of salty trail wisdom and tall tales about his two great enemies, bears and Indians, both of which he claims hell is full of. When they capture a lone Paiute tribesman (Rod Rondeaux), the group splinters into two factions: Those who want to kill him before he leads them into a trap, and those who think he can lead them to water.
In tone and look Meek's feels like a descendent of Terence Malick's classic Badlands, another film about the great beauty and moral indifference of the land. As beautiful as the painted rocks and sprawling plains are, there's no comfort to be found in these grand vistas. In true '70s style, Meek's returns to the craft of the deconstructionist western, stripped bare of the mythmaking, shiny spurs and hero worship, leaving a reality so stark it makes the Coen brothers' harsh take on True Grit seem like an episode of Gunsmoke.
Adding to the retro feel, director Kelly Reichardt (Wendy and Lucy) has shot the film in the 1:37 ratio of pre-wide-screen, which tightens the focus and keeps the characters from getting even more lost among the tumbleweeds. While the movie's allegorical burden is as fragile as rickety wagon wheels racing down a craggy incline, it charges ahead anyway, unafraid to leave some folk in its wake. Uncertainty is the film's guiding principle, and while her characters wander pointlessly, Reichardt knows exactly where she's going.
Showing at the Maple Art Theatre, 4135 W. Maple Rd., Bloomfield Hills; 248-263-2111.