click to enlarge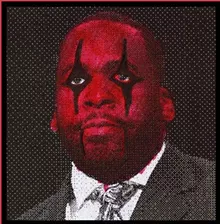 It's a marvel Kommie Kilpatrick made it this far! If the local quintet's music were a car, it'd be an Ed Roth Finkmobile, wreathed in flames, spewing black smoke at 95 miles per hour with its wheels wobbling off the axles, no windshield and certainly no brakes, with suspect steering and the back seat full of howling, pop-eyed knuckleheads bludgeoning their drum kit and guitars into oblivion. The hardcore-punk revivalists (think 90-second songs at breakneck tempos tempting nostalgic moshers) sustained four years, recording several lo-fi cassette-tape albums and EPs while regularly sharing bills with local punk icons such as Timmy Vulgar and the Terrible Twos. The band's last show (for now, at least) is coming up Aug. 16. Let's review our personal Top 5 KomKil songs:
1 "Brain Stuff" was almost their most cerebral song, set to a calmer rhythm, almost a surf-inspired, boogie beat under a subdued (if still sinister) guitar riff while the lyrics discharge some skull clutter (which is likely just built-up mucus).
2 "Too Many Dudes" is a spasm of a ballad (clocking in at 69 seconds) that not-so-poetically complains of the very real downfall of any innocent house party — essentially, too many dicks and not enough chicks.
3 "I Need Dinner" is a particular favorite, deconstructing popular conceptions of the aggressive, quick-punching punk rock of the '80s, and its inclination toward provocation or political railings. Instead the song expounds on the daily problem of finding nutritious sustenance after practice or before the show, to yanking riffs from roaring guitars and a seething keyboard, cut in under a minute.
4 "Facepunch" transitioning into "Bad News Bears" on their live tape Everybody's Sleeping Late bent our ears, with the former capturing the band's quintessential bulls-in-a-china-shop shred sliding neatly into an extended, almost heavy-metal-leaning jam that stomps slowly and ominously at first only to accelerate into Kommie's typical aerobic insanity.
5 "Creature of Habit" was an oldie and our first favorite, a lovelorn punker's lament about lascivious escapism.
Kommie Kilpatrick's final show will feature Amoebas, Growwing Pains, Deadbeat Beat and the Kickstand Band, starting at 9 p.m. Aug. 16, at PJ's Lager House, 1254 Michigan Ave., Detroit; 313-961-4668; pjslagerhouse.com; $5.