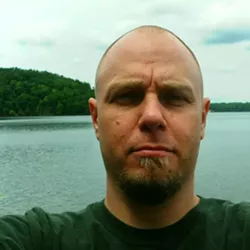 A Detroit police commander has been suspended with pay after reportedly getting involved in a physical altercation that put a restaurant patron in a coma.
WXYZ-TV
reports that Commander Timothy Leach was acting as a bouncer at Ottava Via during last weekend's St. Patrick's Day Parade in Corktown when he confronted Michael Karpovich, who the media outlet says may have been acting unruly. It's not yet clear exactly what happened, but the law firm representing Karpovich tells
Metro Times
that the 41-year-old is in the hospital and unresponsive. His injuries include multiple skull fractures and a bilateral brain contusion. As of Sunday afternoon, Detroit police could only confirm Leach's suspension.
Details of the incident came to light
Saturday,
after Karpovich's family retained an attorney with the Mike Morse Law Firm. The Detroit Police Department made no voluntary mention of the incident for a week and it's unclear when Leach was suspended. Also unclear is whether he was bouncing at the restaurant via the department's Secondary Employment in Uniform Program. Last fall, a DPD officer working secondary employment at the Meijer on Eight Mile Road
brutally beat a customer with his nightstick
. The officer was
later charged
.
The DPD is interviewing witnesses and reviewing surveillance video as it investigates the incident, law firm
Ppresident
Mike Morse says.
Though much of what happened remains a mystery, a member of the Detroit Coalition Against Police Brutality says there's no reason a restaurant patron should wind up fighting for their
life
in the hospital after encountering a cop.
"You should never have to get to the point of having to cause great bodily harm to someone," says DCAPB member Chris White. "[Police] are trained to de-escalate a situation."
Commander Leach is black and Karpovich is white. Leach was last year named in a
document detailing race relations
within the DPD, and described as "the only African-American Commander ... reported to be abusive in tone and tenor, and on one occasion calling an African-American male officer the N-word." The report by the Committee on Race and Equality relied on interviews with dozens of officers throughout the department.
Leach also came under fire as a captain in 2014, after reportedly telling officers they had to meet ticketing quotas. According to
the
The Detroit News
, an order with his name typed at the bottom and issued to the 11th precinct read, "Every scout car is required to make three (3) traffic stops per shift and issue six (6) tickets." A subsequent investigation by Craig found Leach's name had been added to the order in error, the
News
reported.
Leach was promoted to commander by Police Chief James Craig in 2016, according to a report by the
The Detroit Free Press.

This post was updated on March 21 at 8:40 p.m. to reflect that an investigation by Chief Craig determined Leach had not issued the 2014 ticketing quota memo.
Stay on top of Detroit news and views. Sign up for our weekly issue newsletter delivered each Wednesday.