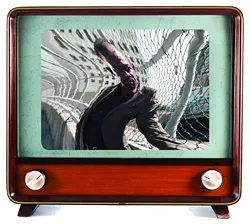 In my last Stir It Up column, I referenced the old Naked City television show to help discuss the narrative going on about Detroit in the media. This week another cop show, AMC's Low Winter Sun, set in crime-ridden Detroit, steps up to the witness stand.
Who do they think we are?
The show is only two episodes old and there has already been enough Detroit bombast to last a season. It follows the usual script on the city. I can't remember in what order it all happened in episode No. 1, but pretty quick we know some cops are being investigated for being crooked; some bad guys who are somehow involved with bad cops kill a drug dealer inside an abandoned, crumbling house and steal his big bag of cocaine; and some cops kill another cop because he's a drunk, and the killer cops are afraid he's going to spill the beans in an internal affairs investigation.
OK, we got bad cops and bad guys. Unfortunately, the show is badly written and unbalanced. The bleakness of the city is relentless. And, so far, there has been no balance; no warm scenes of folks with their families or chatting with well-meaning shopkeepers near the crime scene. Even their personal lives are bleak.
In one scene, the cop who killed his partner snorts cocaine in the bathroom, all while his mother offers to make him a patty melt. He doesn't have time to eat. He needed to rush back out to continue being bad.
The banter between officers back at the cop shop is painful and stilted. And outside of the precinct house, Detroit is just a ball of confusion. We know this is Detroit — because there is a dead body on Van Dyke, a bad cop threatens a bad guy with throwing him in the "Rouge River," and there are scenes in a dark, near-deserted bar as the killer guys talk about what to do with their stolen cocaine.
In one scene, when things seem to be getting too tense for an officer, he goes to an empty house and sits on a bed in a room where blood is spattered over a wall from someone having been shot in the head.
Apparently this is how we chill in Detroit. Desolate, dangerous, bleak and corrupt, that's the message about Detroit in this one. Is anybody nostalgic for the good old days of Detroit 1-8-7, the now-defunct show on ABC?
When it comes to perceptions of Detroit — and I guess I need go no further than our own emergency manager, Kevyn Orr ("… dumb, lazy, happy and rich."). I'll spare you the outrage, there has been plenty of it already, and Orr has sort of apologized for having said it.
However, I find the four adjectives expressed by Orr to be a puzzling combination. "Dumb" and "lazy" are certainly pejorative, but "happy" and "rich?" What's wrong with being happy and rich?
I'd guess that everybody wants to be happy and most wouldn't mind being rich. Is that the problem here, everybody is mad at us for having achieved what they want. Should we be mad at Oakland County for being rich?
Maybe being rich is only bad when coupled with being dumb, lazy and happy. There are plenty of folks who inherited their wealth that probably fit that profile. As long as they quietly enjoy their good fortune there is no problem there. The problem with that type is when they believe that they somehow count more that others simply because they were lucky enough to be born into their circumstance.
As revealing as Orr's comment was, it was just as revealing that we didn't hear much from our local political candidates about it. Mayoral candidate Benny Napoleon posted on Facebook that he found the comment "most offensive and troubling." Bully for him. I didn't hear about anybody else grabbing the issue and running with it. Could it be that on the eve of the primary nobody wanted to upset the guy who will actually be the boss until at least September 2014?
I would have appreciated some discussion on what Orr said. I was hoping that one way to parse mayoral and city council candidates would be their perspective on Orr's actions. So far, other than Orr's mere presence, there has been little to react to.
Yes, the bankruptcy filing is huge, but everyone pretty much knew that was coming. I'm guessing that court wrangling over the bankruptcy filing will take up most of the time between now and the November election, and there won't be much for candidates to say about Orr's actions. The real bloodletting won't happen until after that.
Postscript Thoughts
HERE'S A TAKE ON Detroiters that some folks might find positive. For years we've heard the claim that 50 percent of Detroiters are illiterate; a figure (actually 47 percent) that was somehow produced by the Detroit Literacy Coalition.
I guess it behooves them to have that belief out there. The folks at Data Driven Detroit have disproved the numbers that DLC's projection was based on, but the DLC still has that posted on its website. And even Sheila Cockrel, who seems to love everything else DDD does, has been throwing the 50 percent illiteracy rate number around.
Well, mayoral candidate Mike Duggan has shown us that Detroiters can learn how to spell D-U-G-G-A-N pretty quickly. And apparently Detroiters can learn how to write it and fill in the little oval on a ballot that goes next to the name.
So it seems that a dumb, lazy group of folks can learn how to spell a name and get off their duffs to go write it on Election Day. And whoever played the barber Mike Dugeon into getting on the ballot severely underestimated how dumb Detroiters would be when it came to spelling it right. While that was good for Duggan, it was not so good for the rest of the candidates out there. Maybe Duggan should run as the literacy candidate.
SPEAKING OF HANDLING a tough situation well: I've got to give Detroit Tiger Jhonny Peralta kudos for his response to Major League Baseball when he was suspended for 50 games after being connected to a clinic pushing performance-enhancing drugs.
He followed the best public relations script. He admitted his wrong, apologized, took his medicine and quietly moved on. There was no blustering, no accusations and no half-apology. Peralta manned up in a manner we seldom see in public life. Right now he's my Tiger. Well, him and Miggy.
Larry Gabriel is a writer, musician and former editor of Metro Times. Send comments to [email protected]