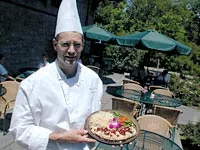 If you're one of the ladies who lunch, have I found the place for you. I don't know why the ladies haven't put The Pool on their circuit yet; perhaps it's a bit far from West Bloomfield and the Pointes. But The Pool is exactly their kind of place. It's also the place for people with jobs who crave a sanctuary of green and flowers in the middle of the working day.
The Pool is open only 11 a.m.-2 p.m., Monday through Friday, and the staff is eager to close up on time. During this brief oasis, you can sit on a shaded terrace beside a rose garden, with the sound of a waterfall in the Rouge River rushing nearby.
The Pool is on the grounds of Henry Ford's 56-room stone mansion in Dearborn. In fact, the dining room used to be Ford's indoor swimming pool, with high skylights and alcoves that undoubtedly once held statuary.
You can tour the house on the hour at 10 and 11 a.m., 1, 2 and 3 p.m. It has huge fireplaces, lavish carved woodwork and a collection of Ford's own cars. The tour costs $8; it's worth a look, and you will hear about many of the founder's eccentricities, not including his flirtation with the Nazis or his sometimes violent relationship with his employees.
None of this is apparent at The Pool, of course. You walk in along a narrow path fragrant with honeysuckle. If you amble down to the river afterward, you'll find birds and more paths and more good-smelling flowers. You can put your feet in the water if you dare.
I saw a blue heron standing stock still at the foot of the roaring waterfall. You will see Canada geese and maybe gophers. Look out for the goose droppings on the lawn.
The Pool's food is far better than many ladies who lunch seem to expect. (I've eaten in a few tea rooms where the doilies had more imagination than the chef.)
Take the enormous Nuts about Spinach salad. The baby spinach leaves are covered with fresh melon, strawberries, pineapple, mandarin oranges and dried cherries, along with almonds, walnuts and soy nuts. (Henry was a soy fanatic.) Unfortunately, the raspberry dressing, served on the side, is too much like raspberry jam.
Smoked chicken and portabella salad is tangy and topped with pine nuts. Tomato, beef vegetable and French onion soups are all house-made. The onion is sweet and winey; the beef uses good-sized chunks, real tomatoes and noodles that look homemade.
The quiche of the day was advertised as Vegetable Supreme, but it sure tasted bacony, and it was great.
Whitefish comes topped with almonds, dried cherries and raisins and is worthy of being "our signature dish."
Sandwiches can get fancy. There's a marinated tuna steak with sun-dried tomato aioli, or portabella and chevre with roasted red peppers. You can also get a burger, of course, or a turkey club or chicken salad croissant.
Desserts are wonderful: a Heath bar pie, for example, with a fudgy crust, or Key lime pie or blueberry flan (really a custard). There really are some nice rewards to being a lady for a day.