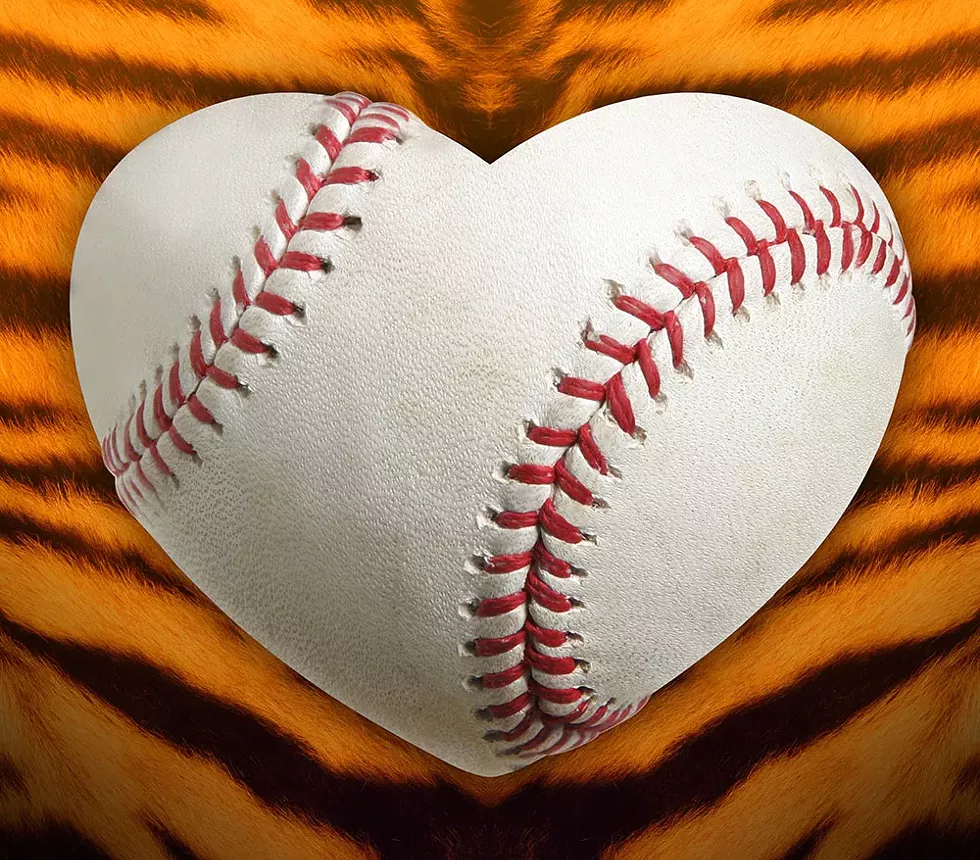 There are approximately 95 billion rocky worlds in the Milky Way galaxy — and by all appearances Jimmy Doom was lucky enough to be born on the one with his favorite baseball team: the Detroit Tigers.
"I was fucking born in New York," he says, wiping up the bar at Kelly's in Hamtramck at the beginning of his evening shift. "My mom went to college on the East Coast, was living out there when I was conceived and when I was born. It would have been really easy for me to go,. 'I'm a Yankees guy.'"
He says he's heard people hang their fandom on even more slender circumstances. Doom says, "I'll be like, 'Why are you all about the Mariners, dude?' And it's like, 'Oh, my girlfriend got a partial scholarship to the University of Seattle,' or some crap, you know?"
Instead, Doom has spent decades living out that fan loyalty. It also doesn't hurt that he has many years of life experience, coming down to Corktown for the St. Patrick's Day parade, and getting married at Holy Trinity. It's in his family: He brags about a picture of his Uncle Herbie at Tigers spring training in Texas in 1916.
"I never really strayed in baseball," Doom says. "I had a really ugly dalliance with the Pittsburgh Steelers in their heyday. But I've rooted for the Tigers since I was first cognizant of them in '72."
He recalls the gritty pleasures of the old ballpark at Trumbull and Michigan avenues, such as pissing in a trough of ice. "To this day I don't see what's wrong with that," he says. "It works. Do you need your own little private porcelain thing? Do you enjoy urinating more because it's sparkling white?" He remembers the sizable bleachers section, where beach balls were tossed from person to person, with great clouds of smoke wafting up from the seats ("strictly Marlboro" Doom says with a laugh).
When he was underage, he says, "they'd have me 'crotch' the pint. ... These weren't TSA patdowns. Later, I got a mohawk and looked like the kind of guy who'd be bringing in something." That's when a female friend put it in her bag — in her tampon box. Not one of the all-male security guards would fuss with the package. "You're not going to get any guy in America to open it," she had told him.
The memories keep pouring forth: "Fans now don't get this, but the overhangs at Tiger Stadium. Bleacher creatures would have extended conversations with center fielder Chet Lemon. They would hang over the bleachers and talk back and forth with him. You had some blue-collar types that might not be the most liberal, but their favorite person in the world was probably Chet Lemon."
The entertainment at a Tigers game often included fights. "Were there fights?" Doom asks. "Yeah, but there were more at the Silverdome for the Lions games."
And yet, mention bench-clearing brawls and he pulls out his cell phone to show he was there for the most recent donnybrook in August 2017. Doom has felt the ever-present possibility of violence since Oakland Athletics' Bert Campaneris threw his bat at Tiger pitcher Lerrin LaGrow in 1972. "It was unprecedented," Doom recalls. "It was a huge big deal. Oh, my god, this guy tried to decapitate a pitcher with a bat. My normally even-keeled grandfather was out of the chair and hollering: 'That guy should be in jail.' The Tiger passion: There it was."
Is there anything that could make him turn his back on the Tigers? The question stops him cold for a moment, but he brings up the "enhanced netting system" going in at Comerica Park. The rigging will extend down the baselines to first and third, ostensibly to protect people from being injured by flying balls and bats. The unspoken reason for this change seems crystal clear to Doom: Too many people are on their phones, not paying attention.
Jimmy_Doom_on_netting.mp3
"And you know what they said?" Doom asks. "They said the nets are invisible. Who invented the nets? Stan Lee?"
To Doom, the little bit of additional safety we gain isn't worth losing the magic of actually grabbing a ball that falls into the stands. "Anybody with kids can tell you," he says, "even if your kid wasn't necessarily a sports or a baseball fan, the idea that they might get a ball that was actually in play in a Major League game was really enticing to them."
But even this fresh heresy isn't enough to sour Doom on the team. Heck, even the team's dismal prospects aren't enough to sour him. Longtime, loyal fans get philosophical about droughts.
"You know, it's cyclical," he says. "Growing up, I heard from my uncles about how great '68 was. Then it's '75 and Sparky Anderson and the Big Red Machine are killing them. Then Detroit gets Sparky and then '84 was my '68. In '87 they showed a little promise, and then in the 2000s they made it back, they didn't win but another generation got a feel for that. I didn't think their decline was going to be so precipitous. You know there's going to be downtime. But I didn't like the fire sale. I didn't think they got enough in return for the star players. But am I going to give up on it entirely? No. Because I know seven years from now, they could be right back in."
Not that Doom dwells on it, but the over-under coming out of Las Vegas augurs ill for the Tigers. The team's predicted total wins are, Doom says, "the third-lowest total in the Major Leagues."
"This year is going to be very difficult," Doom says. "This year is going to be like your kid getting sent home from school for pot for the first time. You knew it was a possibility, it's not the end of the world, but it's still aggravating as fuck."
But Doom sees some silver linings. He sees in Gardenhire an old-school vibe he calls "that baseball-is-my-life thing." Maybe he's the guy who can get the most out of the team like Sparky Anderson did. Even so, Doom says, it's going to be three or four years.
Longtime, loyal fans get philosophical about droughts.

tweet this
Then again, if all Doom cared about was winning, he'd be a Yankees fan.
"If you go to enough games, you never know what's going to happen," he says. "You're going to see some great victories. The game can go 24 innings. In a 162-game season, I know I'm going to have some fun. I know I'm going to leave frustrated sometimes."
But that's all part of being a fan. Every spring, anything is possible. And even those who say they've sworn off the sport aren't immune to the appeal of possibility.
Doom says: "Anybody who says, 'Forget the Tigers! They traded my favorite player. I don't care about the Tigers!' — those people are going to have their fucking toes pressed to the edge of the parade when the Tigers win the Series again. You know they are. They're not going to go, 'No I didn't care. I took up anal crocheting, and I'm going to be at the Anal Crocheting Autumn Nationals at Omaha at the same time as the Tigers World Series parade.' Fuck you. No, you're not. You're just annoyed. You want to take a break, you want a trial separation. You'll be back."