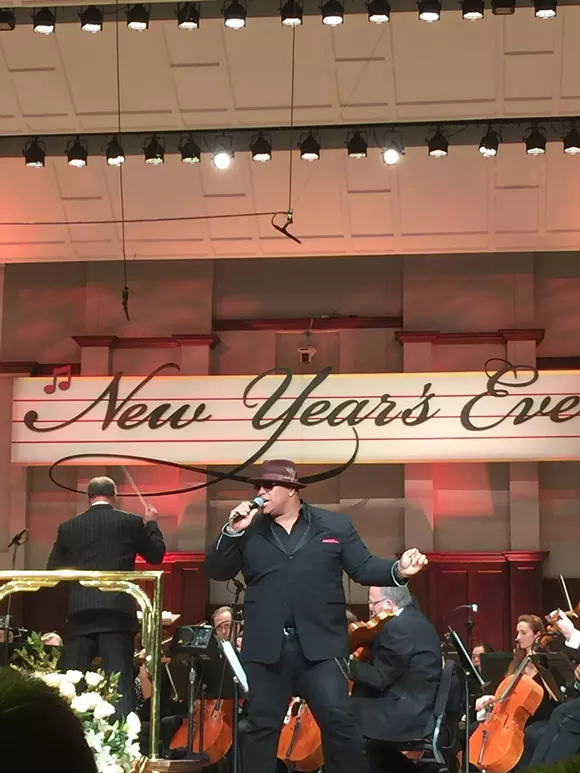 The Detroit Symphony Orchestra knows how to throw a party — and you may have heard a sampling of their performances on PBS while flipping through your television on New Year's Eve. Black tie, white tie, fur coats, dresses of varying lengths, you name it, symphony-goers were dressed in their New Year's Eve best to ring in the new year at the Max M. and Marjorie S. Music Center.
Principal pops conductor Jeff Tyzik conducted the televised event and
American Idol
season nine finalist Michael Lynche provided vocals for a number of Motown classic and also rock 'n' roll tunes, encouraging the packed house to join in on songs such as the 1958 hit "Johnny B. Goode." Many, perhaps veteran audience members, weren't shy about snapping their fingers and belting out the lyrics; this somewhat symphony newbie (our first show was in September, with the Lansing Symphony Orchestra) had initial reservations joining in, but this was about music and who doesn't want to move and sing along?
The community-supported DSO takes the stage for a number of performances throughout the year. This weekend, for instance, brings Mozart's "Prague Symphony," a three-day show, with Saturday's performance available via a live webcast on
dso.org/live
.
Other future concerts include Classic Broadway, Mary Wilson and the Supremes, and John Williams Favorites and more (ie:,
Raiders of the Lost Ark, Harry Potter
, and
Star Wars
, to name a few.)
For tickets, and full calendar of events, visit
dso.org
.