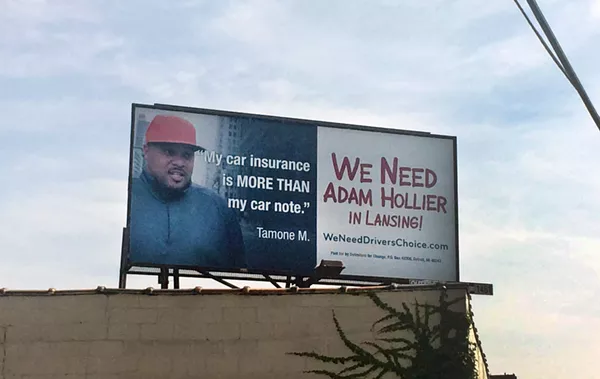 An auto insurance reform plan similar to that developed by Detroit Mayor Mike Duggan and his Republican allies in the state House is back on the table.
Duggan and House Speaker Tom Leonard, R-DeWitt, in 2017 wrote and pushed a reform bill that last November was
voted down in the state House
by a 45-63 margin.
While the GOP is presenting the new plan as a "grand bargain," the new an old plan are largely identical. This time, however, Duggan ally and billionaire Quicken Loans founder Dan Gilbert is apparently helping push the insurance proposal.
Among other issues, both plans allow insurance companies to continue "redlining" in Detroit. Insurers are permitted to use
motorists' zip codes, education levels, credit scores, occupations, and other non-driving factors to calculate auto insurance rates. Marital status and gender are also often illegally factored into rates, critics say. In Detroit, where credit scores are low, unemployment is high, and most residents haven't attended college, insurance policies cost more, and critics note that is — in essence — redlining.

The proposed new plan bans the use of FICO scores in
calculating
policy rates, but still allows insurers to continue using credit to determine if a policy holder is likely to pay on time. In other words, insurance companies can still use your credit score against you. It also allows the state to continue charging more based on other non-driving factors like zip code, which would mean Detroiters and others in large cities would still pay higher rates.


The old bill also included a loophole that would allow insurance companies to wiggle out of passing savings onto consumers if it could prove it wasn't making a profit. The new plan contains the same "escape hatch," House Democrats spokeswoman Samantha Hart told
Crain's.

The new plan also benefits insurance companies because they won't have to pay out as much to those who buy lower levels personal injury protection and are injured in an accident. According to
Crain's
:
A memo from the House Republican Policy Office obtained by Crain's details a sweeping auto insurance reform package that would cap family-provided attendant care at 84 hours per week, allow senior citizens to opt out of personal injury protection altogether and mandate an audit of the Michigan Catastrophic Claims Association and potential rebate to drivers.

The proposal would create a tiered system of medical coverage at $225,000 for hospital care and $25,000 for post-hospitalization care; $500,000 of medical care; and the unlimited medical care that's currently mandated for all drivers. The bill would mandate rate reductions of 40 percent, 20 percent and 10 percent for the personal injury protection portion of a driver's auto insurance premium, according to the draft amendment for Senate Bill 1014.

Those who buy $225,000 of personal injury protection would likely be responsible for any medical costs beyond that amount, which can bankrupt anyone who needs longterm or lifelong care. It also saves auto insurance companies a lot of money.
State Rep. Yousef Rabhi, D-Ann Arbor, says he's also hearing the plan will include a provision that caps costs paid by out-of-state insurers in the event that an out-of-state motorist injures a Michigan resident.
The new proposal, Rabhi says, mirrors the old plan and is "just bad."
"They try to couch this stuff in 'We're helping in Detroit' when they're just giving people crappy insurance, not solving the problems, and they're perpetuating a system that's discriminatory while benefitting insurance companies," Rabhi says. "There's nothing in here that benefits Michigan residents."
Though Duggan isn't directly involved with the new bill, it's essentially his plan. For insight on how badly the insurance lobby wants some form of these changes approved, it helps to look at financial links to Duggan and his political machine. During primary season, the auto insurance lobby
banked heavily
on Duggan-backed candidates who promised to support the plan. For example, the Automobile Club PAC provided donations of between $1,000 and $2,500 to Duggan-backed state legislature candidates like Karen Whitsett and Marshall Bullock. The PAC
takes in tens of thousands of dollars
from AAA insurance agents from around the nation.
Beyond that, Duggan's auto insurance reform allies also appear to be backed by the auto insurance lobby, and are
under investigation
for campaign finance violations.
Stay on top of Detroit news and views. Sign up for our weekly issue newsletter delivered each Wednesday.