click to enlarge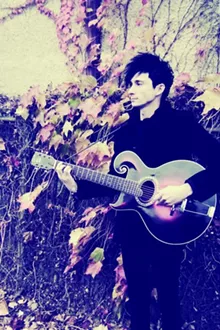 When you see Julian Paaige (and yes, he uses two A's in his surname, no typo) on a stage, standing alone as he usually is, there's something stark, mildly sinister and yet very appealing about the performance. Like Mancunian punk-poet John Cooper Clarke, though coming from a completely different angle, Paaige seems upset but he doesn't want to holler and scream about it. He uses a natural air of vulnerability to entice the audience in before verbally spitting a big, green loogie in our faces.
In a sense, Paaige is the living, breathing definition of "emo," though he probably won't thank us for that due to what the genre has come to define. Paaige isn't a Hot Topic model come to life, thoughtlessly projecting the perceived teen-mind-nonsense of the masses. Rather, his own take on punk poetry is crafted, seriously considered from a lyrical standpoint, and beautiful.
Paaige says that he discovered his love for music, and punk, as he was entering his teens. "In high school, I got into all the bands in Legs McNeil's Please Kill Me. Johnny Thunders was one of my favorites. That book really changed a lot for me. I read it five or six times. That kick-started everything."
Paaige's obsession with McNeil's classic punk rock bible — from our own MC5 and Stooges to New York's Velvet Underground and the CBGB's scene — makes complete sense. Visibly, he seems to blend the art school sensibility of Television's Tom Verlaine with the rag-tag rock 'n' roll troubadour aesthetic of a Johnny Thunders or Stiv Bators (Dead Boys), while his delivery has elements of Patti Smith's poetry and David Byrne's schitzo delivery. "That's just the way it comes out of me," Paaige says. "If I could write any other way I would. When I write, I don't try to be anyone else. I write exactly what I feel. When I made my record (Dismal Ditty), I didn't feel any references at all, like a lot of people do. I just went in with an idea and went with it."
While Paaige looks and sounds perfect up on stage by himself, he says that the decision to not use a band is more a happy accident than a planned career move. "I've tried out three or four drummers, and I had one show with a drummer but it just didn't work out," he says. "I would totally love a band but right now I don't have anybody to do it. It's very easy this way though. I can do a show, and I know I want to play as many shows as possible, so I don't have to ask anybody. There's no luggage to carry around, I guess. I'm not worried about this or that person not showing up. The one show with the band was great because it's a whole different element when you're up there by yourself. You have to entertain. A band would be great."
In a time when the Detroit music scene finds strength in eclecticism, Paaige has no trouble fitting in despite the fact that he sounds like no one else. "What's cool about Detroit is that everyone is doing their own thing," he says. "People do what they want to do and that's what I'm doing. It's cool playing a show with bands where we're all different genres. It doesn't necessarily have to be an all-punk show anymore. You can have a punk band, a country band and everything else. Everyone is open-minded enough. It's more fun that way, I think. I like the era that's going on right now. You have all the background of all the bands before. I get to enjoy all of the music from all of the bands from the last few years, and now people are trying new things with their music. I think the next ten years will be a lot of fun."
As one might expect, Paaige's best show so far, in his opinion, was more than a little unorthodox. "My favorite so far was one with Eddie Baranek [the Sights] and Danny Kroha [Danny & the Darleans] at the Magic Stick," he says. "We just took turns on stage, playing with each other. It was fun. We'd do a little backup for each other. It came out cool, and we didn't know how it was going to go. There were three different songwriters who respect each other. It was fun."
And the worst? "At the New Way Bar, during the second song before I'd even finished, they cut the sound and put the radio on," Paaige says. "I guess they didn't like it. I hear they do that. I don't think I'll be going back. I didn't care. It is what it is. Some people think it's really cool that that happened."
Paaige has ambitions that are both humble and realistic. "What I want to achieve is to be able to make a living from my music and to be happy," he says. "I don't want to make a million dollars or anything like that, but if I could survive off doing what I love then that would be awesome. Tour and see the world."
The gloriously oddball nature of Paaige is evident when he's talking about his favorite books and movies. One minute he's extolling the virtues of Truman Capote, the next he's enthusiastically ranting on the subject of Hollywood horror movies. "The book Breakfast at Tiffany's, I like that a lot," he says. "I like Capote a lot. The writing was so easy, it's a good story, a romance. It just really glued me in. I've never seen the whole movie. In fact, my favorite movie is probably Insidious, that horror movie that came out like two years ago. It scared the shit out of me. Or High Tension, the French horror movie. That was really great. I love film and I love making my own videos. I went to school for film making but I had to pick one thing over the other. I took acting class too, but I chose music. I watch a movie once every couple of days. I heard there's an Insidious sequel this year so I hope that's cool."
On Saturday, Paaige performs with Michael Mars & the God Particle at Found Sound, another unusual gig for a man who seems to hunt for them. A free show, the bill also features 3PO Mafia (Star Wars-themed music) and Barbeque. After that, Paaige is keeping busy. "I have a show April 6 at the Loving Touch with Anastasia Gold and the Wrong Numbers, then the Blowout is coming up," he says. "I have a show at the Lager House at the end of April. I want to put together a summer show, a masquerade show. Make it black attire and call it A Haunting in Detroit or something. Just trying to keep it interesting."
That you are, sir. That you are.
Julian Paaige plays at Found Sound on Saturday, March 23 with Michael Mars & the God Particle, 3PO Mafia and Barbeque; 234 W. 9 Mile, Ferndale; 248-565-8775.