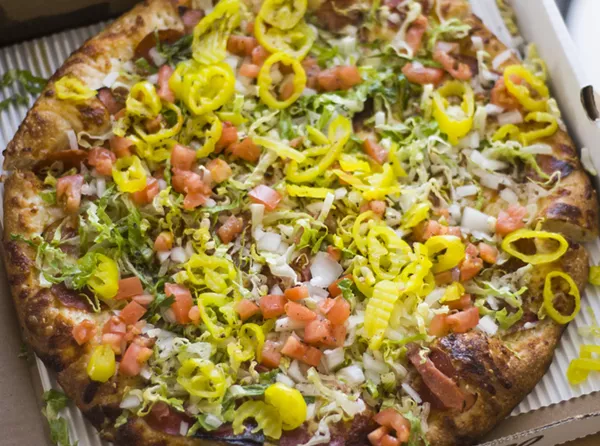 Detroit is a surprisingly deep pizza town.
Loui's is among the nation's best pizzerias, while Cloverleaf, Buddy's, and other Detroit-style
pizzamkers
trade in what seems to be the
nation's trendiest pie
. Supino's thin crust pizzas are always excellent, and Mootz's carryout component is now serving solid NY-style slices. PizzaPlex does Neapolitan
by the book
, while Capitol Park's La Lanterna
specializes
in northern Italian pizza. And some, like Hamtramck-style pizza inventor Jeremy Duncan, say Sportsman's in Wyandotte can't be stopped.
Hell, even Detroit'
lowgrade
, fast food pizza — Jet's, Little Caesars, and Domino's — are inexplicably loved across the nation, and one of the state's most popular exports.
So it takes a memorable pizza to stand out in Detroit, but Pie-Sci manages to consistently do so with a roster of unconventional pies like the Tamale G or Pickle Rick. This winter, the small Woodbridge shop is hitting a new high mark with the Salami Kilpatrick, a pie that is, of course, a play on the name of
disgraced
former Detroit mayor Kwame Kilpatrick.
The Salami Kilpatrick is a white pie that's essentially a hoagie or grinder in pizza form. Pie-Sci builds it off a garlic oil base and sesame seed crust, loading it heavy with pepperoni, salami, ham, and mozzarella cheese, then placing it in the oven. After it's pulled out, it gets layers of shredded romaine lettuce, crunchy diced white onion, diced tomatoes, banana pepper rings, and is hit with oil and vinegar.
The textural interplay among the crunchy, fresh ingredients, the warm, gooey cheese, and the slightly charred salami is part of what really puts the Salami Kilpatrick over the top.
Pie-Sci pizza chef Aaron Midcalf says the name came from Julie Walsh, who runs the Detroit Deli food truck in Fargo, North Dakota, and has
a sandwich of the same name
. She
and and
Pie-Sci owner Jeremy Demaske are friends, and she suggested Demaske create a Salami Kilpatrick pie.
"It's kind of a joke, as much as it maybe shouldn't be poked fun be, it's
light hearted
," Midcalf says.
That got us thinking: What other Detroit politician pizza puns might be out there?
The Christine
Meaty? Robert McMarinara? Or maybe a pizza called the Mike Duggan — it's full price for everyone
except wealthy developers who get a tax break
in the form of 6 cents off of every dollar.
Well, maybe we'll just leave the naming to Pie-Sci.
(h/t to punmaster Michael Jackman.)

So many restaurants, so little time. Find out the latest Detroit dining news with our weekly food newsletter delivered every Friday morning.