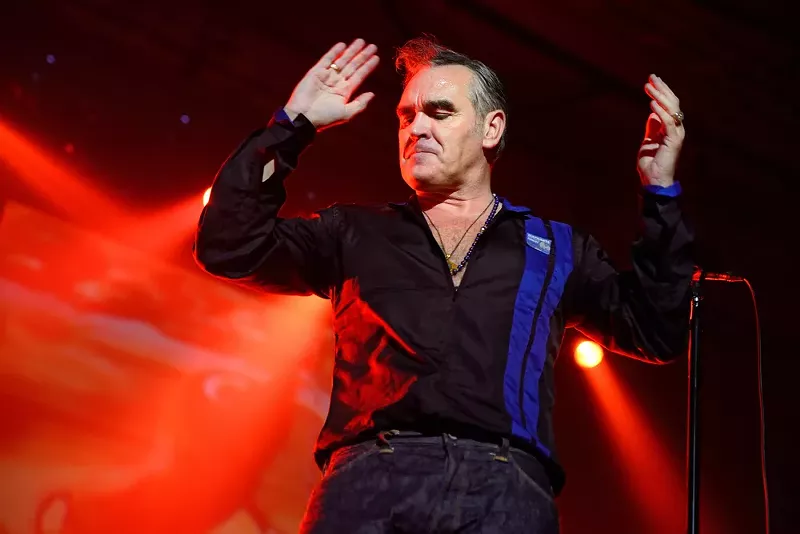 In case you missed it, your favorite moody as fuck frontman Morrissey joined the Twitter-verse over the weekend, exciting longtime Smiths fans and music afficianados, making us wonder what gems Morrissey could produce in 140 characters or less.
So far, we've only gotten three tweets from Moz, but each has been more revealing that the last. Morrissey's first tweet is "Spent the day in bed..." which is honestly the most Morrissey thing he could ever tweet. Come to find out, "Spent the day in bed" is the name of his new single.
Moz's second tweet is where things get cryptic.
OR WA CA AZ UT CO MO IL MI DC NY PA MA

— Morrissey (@officialmoz) September 19, 2017
Many on social media speculated that this series of state postal codes could be some sort of upcoming tour schedule. Add this to yesterday's announcement that Morrissey has a new album coming out called
Low In High School
on November 17 and we could possibly have Morrissey coming our way pretty soon if he doesn't cancel.
As any Morrissey fan knows, the singer is incredibly notorious for showing up to gigs extremely late, or not even at all.
Morrissey has a long history of canceling shows rather abruptly here in Michigan, espicially at the Royal Oak Music Theatre. In 2011, Morrisey was playing at the Royal Oak venue when he
ended the show early
because the security were allegedly manhandling concertgoers during the show.
Almost a year ago in November, Morrisey was scheduled to perform at the Royal Oak Music Theatre until he
canceled the show on the day of
because a member of his band was ill. He quickly rescheduled one for December 7, but that date was ultimately canceled as well.
He did however get through his whole set the last time Moz was in town, which was in
2015 at the Masonic Temple
, so not all hope is lost.
We will keep you updated if we receive any touring information on Morrissey.