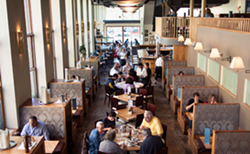 Agents from Immigration and Customs Enforcement ate breakfast at Ann Arbor's Sava's, then raided the kitchen looking for a suspected undocumented immigrant on Wednesday.
MLive reports
that the employee wasn't working at the time, so the ICE agents instead started questioning other immigrants working at the restaurant. Three people who didn't have proper identification with them were taken into custody and transported to ICE's Detroit office.
"It's a very sad day here at Sava's," owner Sava Lelcaj told
MLive
. "These things really shake people up. We have a lot of people who have family roots here."
She adds that her company, Savco Hospitality, has in place a vetting process to ensure that immigrants are legal.