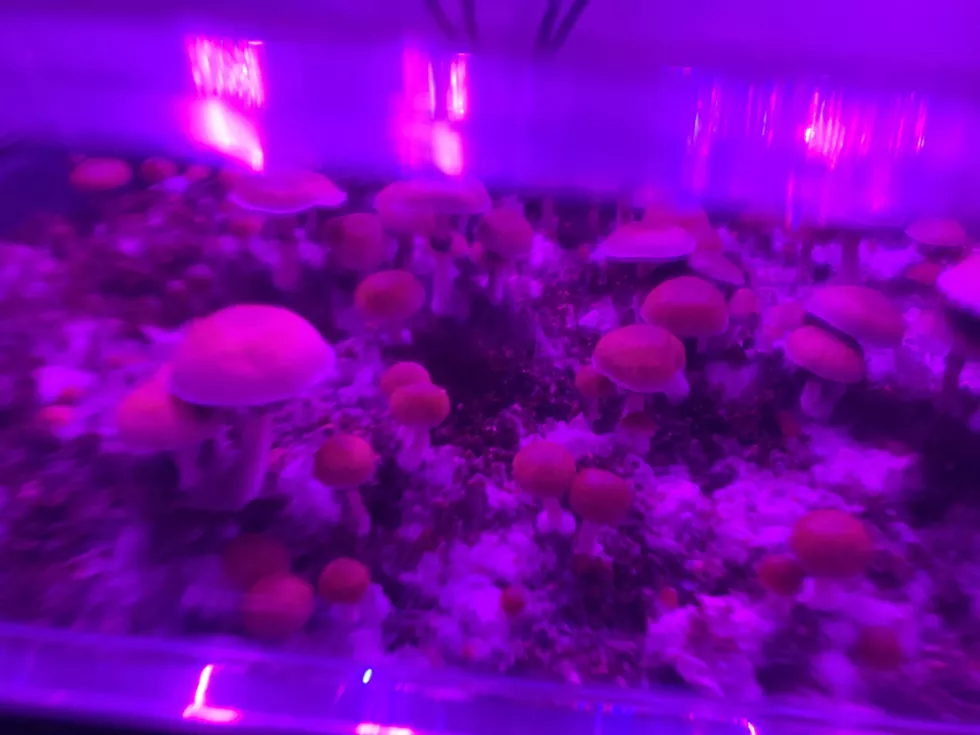 Shelby Hartman says the psychedelic movement is growing exponentially, especially since 2019, when she and Madison Margolin launched DoubleBlind, a media company and education platform committed to spotlighting diverse perspectives, dogged reporting, and an informational product that is as beautiful as it is educational. The Los Angeles-based organization publishes biannual print issues featuring contributors, writers, and artists from all around the world — as well as a steady flow of digital content covering everything from South America's ayahuasca tourism industry to appropriation of ancient medicines, advice on letting go of negative thoughts and vetting a trip sitter, and photo spreads, like that found in Issue No. 5, of men in bathtubs, in an effort to reframe masculinity. They also offer virtual courses on growing mushrooms, microdosing, and how to set yourself up for a happy trip. There's also a membership program that allows access to a library of educational videos and courses and lectures by the world's leading psychedelic experts.
Hartman, who completed her masters program in long-form journalism at Columbia University in 2015, has been published in Rolling Stone, Playboy, Vice, and others, and serves as the publication's editor in chief. She's quick to discount the belief that it's all fun and games when it comes to psychedelics. As a journalist, she reminds that it's not her job to have an opinion on many of the topics and subjects explored in DoubleBlind, but instead to report thoughtfully on all aspects of the psychedelic movement and how they're unfolding.
"Psychedelics aren't a joke," Hartman tells Metro Times. "I mean, psychedelics, they have shown promise for treating really severe mental health conditions like post-traumatic stress disorder, treatment, resistant depression, and end-of-life distress in folks with terminal diagnoses. And so, absolutely, the promise is real and the promise is exciting. But also, psychedelics aren't for everyone, and they're not going to heal all of your problems overnight," she says. "And so it's important that people understand that, so that they don't romanticize these substances. And also, so that they understand that the results that we're seeing from clinical trials are about psychedelics being administered in very particular ways, and in very controlled settings, with the support of therapists and screening and all the rest. We don't want people getting their hopes up."
Running a media organization, not to mention one dedicated to psychedelics, is not easy to do in 2021 — from being shadowbanned on social media (DoubleBlind was forced to make a backup Instagram account last year when the platform disabled their account after two years of posting content about psychedelic education) to implementing creative ways to fund its very existence so that it can continue to reach those who wish to access it. Through virtual classes (I, for instance, paid $150 for their aesthetically pleasing, easy to follow virtual webinar on how to grow mushrooms, and have successfully been growing various strains using the techniques featured by their instruction), DoubleBlind is able to pay their contributors, as well as put out a print issue, which was very important to the organization's founders.
"We made the conscious choice to do that, because we believe that it's important for people to unplug," she says. "And we want people to be able to enjoy our stories and cherish them in nature, at the beach, wherever they want. I would say just figuring out how to make it work financially is challenging for us, especially because we don't want to shut anybody out. So we offer scholarships for everything we do. And we do sliding scale offerings for all of our webinars. And, you know, it's tricky. There are some people who say that, you know, you should never charge for anything in the realm of psychedelics, and I understand those criticisms, but at the same time, we also want to pay the writers and artists that we work with and the people who make the magazine possible."
Obstacles be damned, DoubleBlind made history in September when it launched the first-ever billboard campaign in the U.S. devoted to plant medicine. For one whole week, a skyscraper-sized billboard in New York City's Times Square was occupied by DoubleBlind's Celebrate Plant Medicine campaign, which was intended to "disrupt the profit-driven advertising we often see in places like Times Square to fuel a conversation about healing."
Why is a billboard about psychedelics so damn revolutionary — and important? For Hartman, it comes down to access to information.
"I think that there are still a lot of Americans and people all around the world who literally have no idea what's happening in the realm of psychedelics and don't know fundamental things like the difference between shrooms and LSD, or the difference between a micro dose and a macro dose," Hartman says. "There's also a lot that we don't know even within the psychedelic field. For example, there are tons of women who are interested — or I should say, humans, rather — who are interested in taking psychedelics when they're pregnant, or microdosing when breastfeeding, or tripping for their postpartum depression. And we have literally no information on that. So I mean, it's just a matter of time, hopefully, before we get that data, but we don't have it now."
The speed in which the movement is growing is somewhat concerning. There are so many elements to consider when drafting decriminalization and legalization initiatives, including the belief shared by some that we should be focusing on legalizing all drugs instead of decriminalizing naturally occurring plant medicine. Hartman also addresses the ongoing controversy surrounding peyote, the hallucinogenic cactus used by Native Americans described by Navajo spiritual leader Steven Benally, as being a "sacred medicine crucial to our religious identity and survival of our community." The Native American Church has made requests for peyote to be removed from the decriminalization of entheogenic plant efforts due to the fact that peyote is at risk of becoming endangered.
"Michigan seems to be making great progress overall," she says. "And it's exciting to see. For us, I mean, we just want to keep doing what we're doing, telling stories, creating media, educating people. We just want to keep doing what we're doing. And it's not always easy."