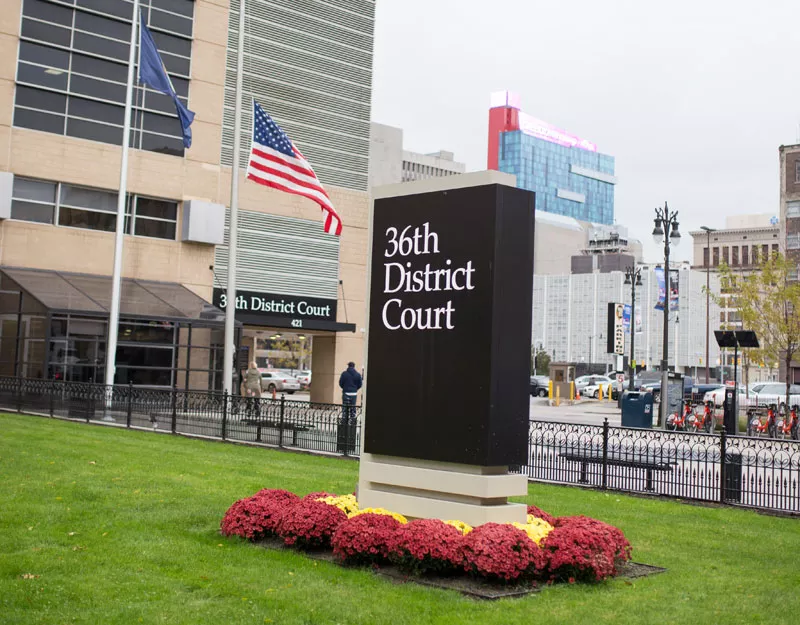 Once the Howard Katz case was squared away, records show Credit Acceptance started filing more debt collection suits each year against Detroit residents. In 2007, the lender represented 1.45 percent of the 36th District Court's total caseload. Five years later, it jumped to 5.21 percent. By last year, it reached 12.18 percent.
It's a potentially startling reality for a court that, just five years ago, nearly became insolvent. The court that year posted an operating deficit of $4.5 million, leaving it facing "extraordinary challenges," a report found.
In response, the Michigan Supreme Court appointed a state appellate judge, Michael Talbot, to address the issues. Talbot spent a year and a half making staff cuts and reclassifying positions so workers would handle expanded duties, before turning the court back over to the local administrator.
The court is in better financial shape today, and it still handles one of the largest case volumes in the U.S. — including a significant amount of filings from Credit Acceptance. Talbot had no comment when asked about Jalopnik's findings and the implication that fees from the lender's cases are helping 36th District stay afloat.
Nancy Blount, chief judge of 36th District, says by email only that: "Our court exists to resolve disputes and to do so in a neutral and just way. We are not a revenue-generating organization. Our funding unit, the City of Detroit, has a statutory obligation to fund us whether we realize revenue or not." (A spokesperson for the mayor's office didn't respond to requests for comment.)
A 2017 report on Credit Acceptance, which first highlighted the number of debt collection suits filed in Detroit, suggested that 36th District Court generated as much as $2 million in fees from the lender's garnishment requests alone. The report from PlainSite was commissioned by an investor betting that Credit Acceptance's stock price would tank. It suggested the company generated $2 million in fees for the court. (Blount disputed the finding, and said the figure would be much lower.)
Still, the fact that Credit Acceptance's cases now represent such a significant portion of the court's total civil filings should be concerning to court officials, says Aaron Greenspan, PlainSite's founder.
"From the court's perspective, there's no way this should be permissible," Greenspan says. "It uses an immense amount of government resources to simply process the cases for this company."


There are countless stories from across the U.S. of consumer experiences with Credit Acceptance.
But the personal toll a debt collection case can take on someone's life — and how extreme the situation can get — is perhaps best exemplified several hundred miles away from Detroit, through Missouri resident Carrie Peel.
As gas prices skyrocketed during the throes of the economic crisis of 2008, Peel visited a dealer called Car Time and put down $1,000 for a used Ford Taurus, financing the remaining costs with a nearly $11,000 Credit Acceptance loan. With a low credit score, she had few options, so she accepted the loan at 24 percent interest, meaning she'd wind up paying a total of $17,850.
It made sense, as Peel says. Amid the worst months of the recession, Peel and her husband both lost their jobs, their house ended up in foreclosure, and with gas at $4 per gallon, they needed a more fuel-efficient car.
"We were trying to reestablish our credit, and, unfortunately, because our credit scores were so low, we didn't really have too many other options other than to go to a second-chance finance company," Peel, 40, says in an interview.
That day, Peel signed a sales agreement to purchase the vehicle and drove off with the car, but Car Time never sent the vehicle's title. When she headed back a few weeks later to get a copy, she discovered Car Time had closed up shop. Unable to afford another car, Peel was stuck in a frightening predicament.
Peel reached out to Credit Acceptance for help. But as a lengthy court record later demonstrated, she perhaps shouldn't have bothered.
"As Peel continued to drive the unregistered car, she was stopped multiple times by the police and received tickets and penalties," a judge wrote in a 2013 opinion. "She also became anxious and embarrassed over the situation, especially after being pulled over with her son and his friend in the car."
Credit Acceptance said she'd need to file suit and secure a declaratory judgment to win back her title. But it wasn't until Peel lost her job and she qualified for Legal Aid that she learned, under Missouri law, "if a buyer is not provided with a title to the vehicle, the sale is void and the buyer is relieved of the obligation to make payments on the debt," the judge wrote.
Operating in Missouri since 1992, one might expect Credit Acceptance would've known this. But after speaking with no less than 111 Credit Acceptance employees, Peel got nowhere. Instead, the lender insisted she had to continue paying the full amount of each payment as stipulated in her sales agreement.
"Never once was she permitted to speak to a supervisor even though she was promised many times," Bernard Brown, her attorney, says.
'When you live in Michigan, the roads are shit, so it's expensive to keep a car from falling apart. This disproportionately affects the poor.'

tweet this
When Peel finally connected with Brown, they dug in and took Credit Acceptance to court. What they learned was just how much debt collection means to the company.
Testimony from Credit Acceptance showed the company employs more than 400 collectors, about one-third of its total staff, to make calls and chase down defaulted buyers for loans — buyers hamstrung by obviously difficult situations like Carrie Peel.
Jurors ultimately found Credit Acceptance had violated state laws in its handling of Peel's situation, and awarded her $1.1 million in compensation. Judge Gary D. Witt, the appellate judge who wrote an opinion that later upheld the decision, was unequivocal about the lender's actions.
"CAC contends that it is difficult to ascertain any harm that Peel suffered. CAC asserts that when the whole picture is taken into account, the only 'real loss' Peel sustained was the difference between driving a titled car and driving an untitled one," Witt wrote. "This argument shows CAC's continued indifference to Peel's plight."
The case perhaps explains why attorney Brown wasn't surprised by the amount of cases filed in Detroit's district court.
"This kind of stuff has been done across the country," Brown told Jalopnik. "It's an anomaly that [Brown's co-attorney on the case] Dale Irwin and I were in Missouri and happened to fight this battle."
Throughout the ordeal, Peel said she made her payments on time, each month.
"They're such terrible people, they really are," she says. "They tried to destroy me. They thought I was going to go away."
Attorneys in the Detroit area said that conditions in the city are ripe for Credit Acceptance to mount such a high number of cases.
"When you live in Michigan, the roads are shit, so it's expensive to keep a car from falling apart," says Adam Taub, a Detroit-area attorney who handles auto loan-related cases. "This disproportionately affects the poor."
Millitello, the bankruptcy attorney, calls the increased number of collection cases a growing "crisis."
"They know when they're giving out these subprime loans that some of this income is going to come in from wage garnishments collections," he says. "These cars are crapping out on [consumers]. They're junk."


It's hard to say how Credit Acceptance's founder Don Foss feels about the stories some of his consumers have shared. Foss retired in 2017.
Today, the small lender he took public 25 years ago is enjoying a warm reception from Wall Street, with its stock price jumping from $286 per share a year ago to the current price of $415 per share. The 74-year-old's success allowed him to purchase a 13,000-square-foot mansion in the Detroit suburb of Franklin. Across 3.5 acres, the Foss residence has nine bedrooms and six bathrooms.
He built his empire off a business that routinely drags residents in neighboring Detroit into court day in and day out, over cases that time and again are shown to be dubious at best, over cars like Denita Anderson's busted Chevy Impala.
And so goes the cycle of Credit Acceptance.
"When the car falls apart, the consumer can't afford to get to a job, school , etc., and must abandon the vehicle and seek other transportation," attorney Taub says. "CAC repos the vehicle, sells it at auction for what it's worth... less repo and other fees, and this results in a judgment of at least the full amount financed along with any force placed insurance charges that accrued before the repo."
"So it's no wonder that there are so many CAC judgments in 36th District Court," Taub laments. "This is one way in which our society keeps people in economic servitude."
This story was originally published at Jalopnik, where Ryan Felton is a transportation and technology reporter. He is a former Metro Times staff writer. It is republished here with permission.
Stay on top of Detroit news and views. Sign up for our weekly issue newsletter delivered each Wednesday.