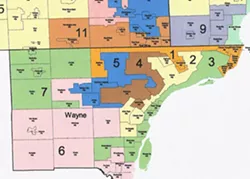 The group Voters Not Politicians is still working to gather the 400,000 signatures needed to get a proposal on the November 2018 ballot to end gerrymandering of electoral districts.
The non-partisan, nonprofit group is proposing amending Michigan's state constitution to establish a 13-member citizens' commission made up of five independent voters, plus four each from the two major parties.
It needs 316,000 signatures for the issue to be put on the ballot, has collected over 350,000, but will collect around 400,000 to ensure it has enough valid signatures. The signature collection has been one of the fastest in Michigan in recent decades.
What is gerrymandering and why is it a problem? Read our previous reports
here
and
here
.
Below is the list of locations where you can find Voters Not Politicians volunteers collecting signatures in the coming days.
Friday, Nov. 10
Battle Creek: IBEW Local 445
Grand Rapids: Presto Print
Albion: Irene's Superior Unisex Salon
Novi: Mom and Baby Shop
Battle Creek Books
Chelsea: New Chelsea Market
Saginaw: Bradley's Bistro
Lansing: Triple Goddess Bookstore
Clinton Township: Macomb Community College (University Center, Building 1)
Lapeer: Marguerite de Angeli Library
Holly: Ladies Night Out in downtown Holly
East Lansing: Women In The Arts at Edgewood United Church
Saginaw: Bradley's Bistro
Clinton Township: Jeff Daniels concert at Macomb Center for the Performing Arts
Saturday, Nov. 11
Albion: Irene's Superior Unisex Salon
Chelsea: New Chelsea Market
Kalamazoo: Holiday Parade at Bronson Park
Dowagiac: Downtown Holiday Open House at Shabby Bou-Chic
East Lansing: Women In The Arts at Edgewood United Church
Ann Arbor: Dog-O-Mat
Battle Creek Books
Saginaw: Bradley's Bistro
Lansing: Triple Goddess Bookstore
Warren: Novemberfest at Halmich Park
Kalamazoo: Goodrich Theaters Kalamazoo 10
Saginaw: Bradley's Bistro
Ann Arbor: Joshua Davis concert at The Ark
Sunday, Nov. 12
Roseville: Big Bird Run at Roseville-Eastpointe Recreation Center
Ann Arbor: Dog-O-Mat
Chelsea: New Chelsea Market
Lansing: Triple Goddess Bookstore
Jackson: "24 Hours of Creation" art show at Art 634
Ann Arbor: The Knights concert at Rackham Auditorium
Stockbridge: Redistricting Reform Town Hall at Stockbridge Township Hall
Ann Arbor: Dar Williams concert at The Ark
Battle Creek: IBEW Local 445
Grand Rapids: Presto Print
Novi: Mom and Baby Shop
Battle Creek Books
Lansing: Triple Goddess Bookstore
Chelsea: New Chelsea Market
Chelsea: Redistricting Reform Town Hall at Chelsea Senior Center
Clinton Township: Macomb Community College (University Center, Building 1)
Monday, Nov. 13
Battle Creek: IBEW Local 445
Grand Rapids: Presto Print
Albion: Irene's Superior Unisex Salon
Novi: Mom and Baby Shop
Battle Creek Books
Chelsea: New Chelsea Market
Saginaw: Bradley's Bistro
Ann Arbor Township: Washtenaw Community College's Student Center
Lansing: Triple Goddess Bookstore
Marcellus News storefront
Lapeer: Marguerite de Angeli Library
Holly Township Library
Saginaw: Bradley's Bistro
Waterford: L.A. Cafe
Tuesday, Nov. 14
Battle Creek: IBEW Local 445
Grand Rapids: Presto Print
Novi: Mom and Baby Shop
Battle Creek Books
Chelsea: New Chelsea Market
Saginaw: Bradley's Bistro
Lansing: Triple Goddess Bookstore
Marcellus News storefront
Ann Arbor: Dog-O-Mat
Ann Arbor: Laverne Cox lecture at Rackham Auditorium
Midland: Grace Dow Memorial Library
Saginaw: Bradley's Bistro
Holly Township Library
Ann Arbor: John McLaughlin Farewell Tour at Michigan Theater
Detroit: Redistricting Reform Town Hall at Wilder Branch Library
Wednesday, Nov. 15
Battle Creek: IBEW Local 445
Grand Rapids: Presto Print
Novi: Mom and Baby Shop
Battle Creek Books
Chelsea: New Chelsea Market
Saginaw: Bradley's Bistro
Lansing: Triple Goddess Bookstore
Lansing: Everybody Reads
Brimley: Dancing Crane Coffee House
Ann Arbor: Dog-O-Mat
Marquette: Ladies Night Out at Upper Peninsula Masonic Center
Saginaw: Bradley's Bistro
Holly Township Library
Battle Creek: Redistricting Reform Town Hall at Second Missionary Baptist Church
Romeo: Redistricting Reform Town Hall at Romeo Community Center