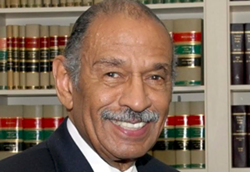 Facing a series of allegations of sexual impropriety and having used taxpayer money in an effort to silence one accuser, Congressman John Conyers has taken a stand and told the public that he will... retire today. He has also endorsed his son, John Conyers III, in the race for the seat he leaves vacant.
The statements, made this morning from a hospital room during a live phone interview with 102.7 FM's Mildred Gaddis, cap a chaotic two weeks for the representative, that began when
Buzzfeed
reported he had sexually harassed an employee and settled her claim with more than $27,000 in office funds. Almost immediately, the House Ethics Committee launched an investigation into allegations against Conyers and calls for his resignation began. As additional allegations surfaced, and the Congressman's first known accuser went on national television to describe him as having "violated" her body,
those calls
ascended the rungs of the political ladder, all the way up House Minority Leader Nancy Pelosi.
Back in metro Detroit, with his 7 Mile home serving as big top for a
media circus
, Conyers took refuge in a hospital bed after succumbing to what his lawyer described as stress-related symptoms. All the while, Conyers maintained his innocence and said he would not step down.
Conyers sort of stayed true to that pledge today, by announcing he would retire rather than resign (though leaving office before a term expires is, technically, a resignation). Thankfully, word of his plans had leaked ahead of the announcement — because the disoriented-sounding Congressman seemed unable to clearly convey his intentions during the radio interview.
"I am very proud of the fact that I am the dean of the Congress and that I will continue to," Conyers began.
With his lawyer (who has previously represented Kwame Kilpatrick and R. Kelly) sitting with him in the hospital room, Conyers allowed five seconds of silence to pass before getting to the point:
"Uh, oh, yes, I am in the process of putting my retirement plans together and I will have more about that very soon."
After Gaddis asked Conyers to clarify, he said his retirement would take effect today.
"Thank you for helping me get the sense of focus," the 88-year-old said.
Prior to the announcement, Conyers said he thought his legacy — which includes having put forth bills to pay African Americans reparations for slavery and to create single payer health care — would not be tarnished by the allegations, which he continued to vehemently deny.
"Whatever they are, they are not accurate, or they are not true, and I think that they are something that I can't explain where they came from," Conyers said.
"This too shall pass, and I want you to know that my legacy will continue through my children."
Conyers thanked his supporters for having stood by him over the past two weeks. Some had suggested the long-serving Congressman was the victim of
racial bias
, comparing his case to the much lighter treatment of admitted sexual harasser, Sen. Al Franken.
Since the '90s, Congress has paid $17 million in settlements to victims who've alleged things from discrimination to sexual harassment. Settlements are routinely sealed and it is unknown which other members of Congress may be the subjects of such claims.