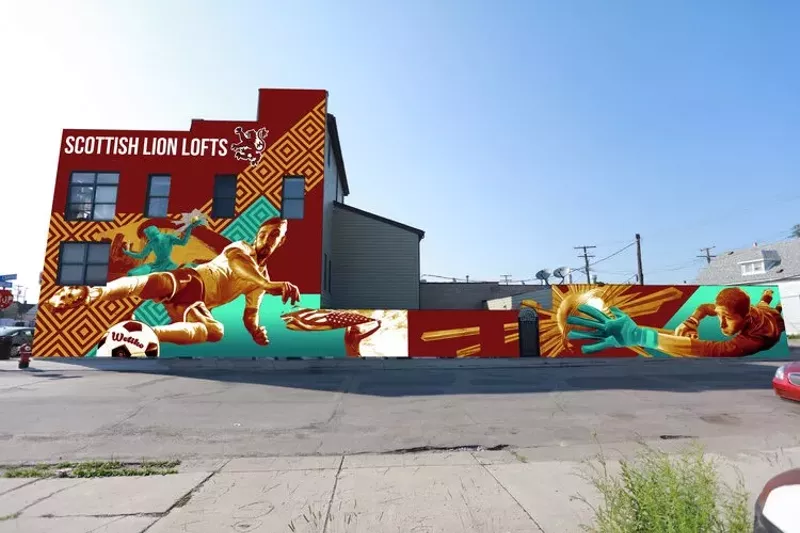 Detroit City Football Club
fans heading to Keyworth Stadium for matches next season will have their path brightened by a new mural honoring the team.
Muralist Kyle Danley began working on a DCFC and Spirit of Detroit-themed mural today and plans to complete it within a week. It's located on a loft building a couple blocks west of the stadium, at Joseph Campau and Goodson Street.
Danley says when he got permission to paint the building, he knew he wanted to create something to honor the club.
"People leave the stadium and pass by this like crazy," Danley says. "DCFC fans are just so incredible, so that was just sort of the idea from the get-go."
Danley, whose artist name is Wetiko, is a Detroit native and CCS graduate. His work can also be found inside
Brome
, a new burger restaurant in downtown Detroit, and on the Russel Industrial Center, where he has painted a
mural honoring legendary architect Albert Kahn
.
The mural at the loft building near Keyworth will depict a goalie (stock image, unfortunately — not the goalie on the team) diving to block the same golden sphere held by the bronze figure in the Spirit of Detroit statue. The mural will be painted in DCFC's signature crimson and gold, with a compliment of teal — the shade of the Spirit statue.
Danley's murals have been the subject of much praise. Even buff man
Mayor Mike Duggan
appears to be a supporter of the artist's authorized spray paint creations, as evidenced by the photo below.
Get our top picks for the best events in Detroit every Thursday morning. Sign up for our events newsletter.