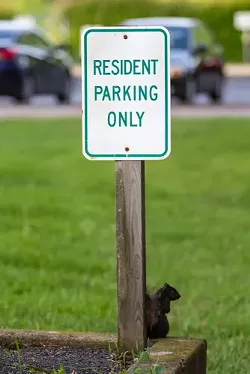 Plans are almost set for a host of improvements to be made to Osius Municipal Park in Grosse Pointe Shores.
What's that? You didn't know there was an Osius Municipal Park in Grosse Pointe Shores? Hardly surprising, given the way it's a residents-only park. How would you know unless you are one of those fortunate enough to be a resident of "the Shores" (2000 median household income: $222,882).
According to the website of the "
Village of Grosse Pointe Shores: A Michigan City,
" Osius Park is an 8.3-acre park sporting tennis courts, a basketball court, playscapes, a swimming pool, pavilions, picnic areas, a bathhouse, and a full marina with docks for boats and yachts. We understand a gatehouse between the parking lot to the pleasure area screens out all but those officially allowed to enjoy the park's perks.
But changes are coming. According to a recent article in the
Grosse Pointe News
, the park is almost all set for a makeover. The parking lot, which has approximately 120 parking spaces, is to be resurfaced for $150,000. The entrance to the park will be widened to two lanes, at a cost of $41,000.
One other matter that appears to be on its way to approval is the construction of a new gatehouse. Although the discussion surrounding why it is allegedly needed and what its construction would entail seemed at cross purposes.
See, according to the sources in the
Grosse Pointe News
article, there's not enough crime to merit a gatehouse. There's already a gatehouse to ensure only residents have access to the park.
The only apparent reason for the construction of the gatehouse is to ensure only residents can park in the parking lot.
According to residents, "Non-residents allegedly have used the lot to park their cars and catch a bus downtown, taking valuable spots."
Can you imagine the nerve of some people? They brazenly park their cars in the 120-space lot reserved for the 3,000-person community. The temerity!
We felt that something must be wrong here. Certainly, given the way the park's lot serves as overflow parking for the nearby courts building, somebody must simply be confused or misquoted in this story.
Nope. We talked to Grosse Pointe Shores Director of Public Safety John Schulte, who confirmed that, yes, non-residents do sometimes park their cars in the lot and then hop a bus. Actually, Schulte seems to be a nice guy, somewhat puzzled to be fielding a call so unrelated to actual public safety.
But apparently, strong feelings about other people taking advantage of the city run deep among its residents. How else could a community rally enough donors to construct a new gatehouse from the ground up — and then publicly allocate $30,000 a year for staffing — just to ensure non-residents don't park in a parking lot?
Finally, one more irony: Remember how those non-residents are "taking valuable spots"? Construction of the gatehouse that would keep them out would also eliminate 20 parking spaces — or roughly one-sixth of the park's available parking.
But at least on those rare days when Grosse Pointe Shores residents can't find a spot to park, they can hold their heads high knowing it wasn't because a non-resident tread on their asphalt!
Stay on top of Detroit news and views. Sign up for our weekly issue newsletter delivered each Wednesday.