November 27, 2013 Slideshows » Blogs
Great gifts you can buy locally in Michigan
Wheelhouse Detroit
1340 Atwater St., Detroit 313-656-2453.
wheelhousedetroit.com
Wheelhouse sells locally made Detroit Bikes, and makes it easier to experience the Motor City on two wheels. Need a great gift and need it now? Visit the website's tours page and pick up a bike tour gift certificate for just $25. Wheelhouse Detroit Bike Shop and Detroit Bikes will launch a retail residency in Eastern Market on Nov. 26, in collaboration with Eastern Market Corporation's Thanksgiving Market. Keep your eyes peeled for them!
Cannelle Patisserie: 159 N. Eton Rd., Birmingham 248-822-4072. Chef Matt Knio has reopened Cannelle Patisserie, a French bakery filled with everyday fresh-made croissants, breads, cakes and pastries. You may have seen the branch of this shop, Golden Wheat, at local farmers markets around Michigan. Based in Hamtramck with a storefront in Birmingham, these locally made treats are great for the holidays.
Blumz
: 1260 Library St., Detroit; 313-964-5777 | 503 E. Nine Mile Rd., Ferndale; 248-398-5130 | 540 Avis Dr., Ann Arbor; 734-398-5130.
blumz.com/
A full-service floral shop catering to your every need and want, Blumz offers arrangements ranging from $20 to $150. Gift items include Detroit Bold coffee, Dave's Sweet Tooth Toffee, the Made in Motown gift basket and more.
Signal-Return Press
signalreturnpress.org
Items from Eastern Market's Signal-Return Press, which are all hand-printed — some on presses dating back to the 19th century; 1345 Division St., Detroit; open 11 a.m.–7 p.m. Thursday–Friday, 9 a.m.–5 p.m. Saturday; 313-567-8970.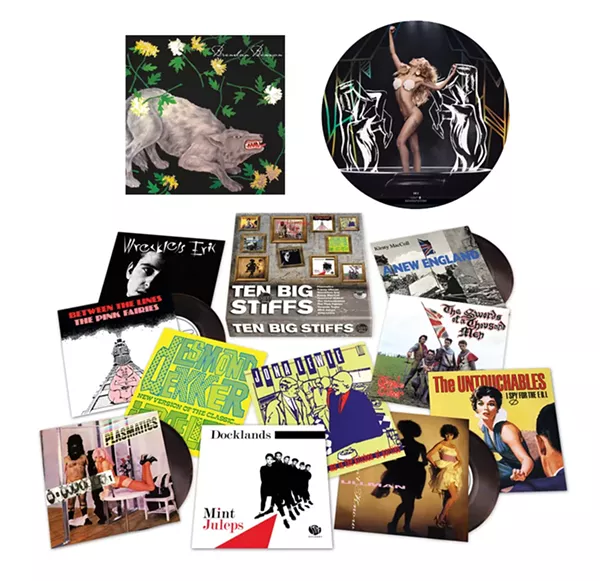 Record Store Day
:
All over town.
recordstoreday.com
The folks who bring us Record Store Day in April have a number of exclusive releases lined up for Black Friday available at local independent record stores. All items are limited edition, and not all shops will carry everything, so be sure to check with your friendly neighborhood record store clerk beforehand. Highlights this year include a collection of hometown hero Brendan Benson's recent singles, a Stiff Records box set, and a Lady Gaga "Applause" picture disc.
Detroit Small Business Passport
Free and available for pickup at Pure Detroit shops in the Guardian Building, Fisher Building and GM Renaissance Center.
puredetroit.com
More than 18 small businesses within the city are participating in this incentive program encouraging people to shop locally this holiday season. Participating businesses will stamp the passport at the time of purchase, allowing for a complimentary item or discount. Participating businesses include Pure Detroit, Stella Good Coffee, the Rowland Cafe, Detroit Athletic Co., Detroit Hardware, City Bird, Nest, Hugh, Nora, Cass Corridog, HUMAN, RUNdetroit, Vera Jane, Source Booksellers, the Fashion Place, Facets of Todd Michael, Workshop, and Detroit Gallery of Contemporary Crafts. Passports will be active and valid through Jan. 31.
Goods Detroit
: 15 E Kirby #108; (313) 703-7754;
goodsdetroit.com
Located in The Park Shelton facing Woodward Ave. Much like the best bakeries, the Goods Detroit shop invites visitors to walk through its doors with a custom design and walk out with a hot batch of custom apparel. In addition to fully personalized t-shirts, hoodies, and totes, Goods also sells tons of hip, handcrafted merchandise from local artists including jewelry, cosmetics, soaps, scarves, paintings, and photography, all of which make fantastic, locally purchased gifts.
Michigan Artisans
: 1400 E. Fisher; (313) 355-4316;
michigan-artisans.org
Located in the old Germack Pistachio building, Michigan-Artisans brings a variety of Michigan talents together under one roof, making it incredibly easy for Detroiters to support local designers, musicians, and artists from around the state. Selling only high quality, original works, the store is a gift goldmine for shoppers who want something that's guaranteed to be inspired, imaginative, and unique. Don't miss the Michigan-Artisans at Noel Night this year!