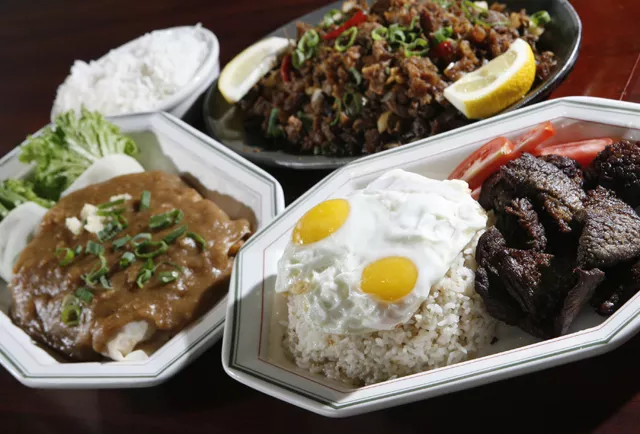 New Lutong Pinoy
31101 Dequindre Rd., Ste. A
Madison Heights
248-565-8360
Appetizers: $2-$9
Entrées: $8-$15
According to the Internet, the old Lutong Pinoy, a small, carryout-only joint in Madison Heights, was the place to go if you were keen on eating authentic Filipino cuisine. Reconfigured as a full-service restaurant less than a mile from its previous location, New Lutong Pinoy aims for that same distinction. 
The authenticity of ethnic restaurants is difficult to measure. Halfway across the globe, variables in fresh herbs, vegetables and availability of exotic ingredients can lead to substitutions that may alter flavor from what is common in the home country. All that a restaurant can do is practice authentic methods of preparation and find the best produce available. While we are certainly not an authority on Filipino cuisine, we can say for certain that much of the food at New Lutong Pinoy does not taste like generic pan-Asian. 
In fact, diners that are used to the bright flavors of nearby Vietnamese restaurants might wonder how the cuisines of these two Southeast Asian countries could be so different. Where Vietnamese is more often than not garnished by heaps of fresh bean sprout, basil, mint, chili peppers and cilantro, many Filipino dishes are earthy, slow-cooked stews. This is best illustrated in the popular dish adobong — meat simmered in a tangy vinegar sauce and called the quintessential Philippine stew.
But before digging into an entrée, there are plenty of tasty deep-fried goodies from the appetizer menu. We particularly enjoyed lumpiang Shanghai, a plate of a dozen, crispy, cigarillo-sized pork spring rolls served with a tangy sweet dipping sauce that has a touch of heat. If you like your spring rolls oversized and filled with chunks of carrot and cabbage that still have some crunch, lumpiang prito is a good choice. Dumplings, skewered fried fish balls, and edamame round out the list of starters. 
Pork enthusiasts will feel at home here. Pata is a mound of crispy fried pork shank with skin included. It's something like Mexican chicharron on the bone and comes with a sharp dipping sauce. You can order pork with ginger sauce or pork simmered in tomato, tamarind and even beef blood. Hedonists can order a plate of deep-fried pork belly! Is that even legal? Check with your cardiologist beforehand. 
There's beef all different ways. Caldareta na baka is a hearty dish of tender beef chunks and vegetables in a tomato sauce and not too far off from a simple chili con carne. There is beef shank in light broth and beef in peanut butter sauce and short ribs too. The four chicken dishes see as broad a range of flavors, from ginger sauce to coconut milk curry. 
Milkfish is the predominant sea protein on the menu and gets similar treatments as the land meats. Shrimp, tilapia and catfish also appear. Curiously, more than half of the dishes under the "vegetables" menu heading are described as having pork among plants like bittermelon, eggplant, toro leaves and squash. 
Certainly there is no shortage of choice here. The noodle menu looks like a brief history of Asian cuisine, with udon, egg noodles, cellophane noodles and both thick and thin rice noodles. Most of them are mixed with some combination of pork, chicken and vegetables. We tried the thin rice noodle dish pancit bihon and found it rather bland. Two eggs over a mound of garlic fried rice are half of the "rice combination." The other side of the plate can be marinated pork or sirloin, Filipino sweet sausage, smoked fish, fried shrimp or fried squid. 
To wash it all down, you can't go wrong with a simple sweetened coconut juice with bits of pulp. Calamansi, or golden lime, makes for a refreshing citrus drink. For a sweet ending, order flan or plantain and jackfruit spring rolls. Adventurous diners should try New Lutong Pinoy's version of halo halo, a scoop of vanilla ice cream over shaved iced over a mixture of sweetened corn, beans and cubes of jelly. 
Like the majority of Asian restaurants in the area, New Lutong Pinoy is located in an unremarkable strip mall directly off a thoroughfare. The dining area is a simple layout of tables encircled by booths with a small water fountain bubbling away underneath the drone of Filipino soap operas from an enormous flat-screen television. The silverware consists only of a fork and spoon. No knife. It's Filipino custom to use the fork to place food onto the spoon before eating. So whether or not the food is truly authentic, at the very least you can eat it authentically. 
New Lutong Pinoy is open 11 a,m,-10 p.m. Tuesday through Saturday, and 11 a.m.-9 p.m. Sunday.