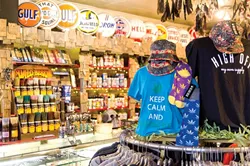 Read the full list of Best of Detroit 2017 Adulting winners here.

If this category seems like a bunch of odds and ends, it kinda is. But to those who love or need these things, they're medicine for the body and soul.
For our readers, the doctor is "in" at Lover's Lane, and the best place to get that toy that jump-starts your sex life is at Noir Leather. These are longtime hits, of course. Another stubborn winner, praised for its service and great food, is the Penthouse Club, which reigns supreme on Eight Mile. But the Best Menu honors go to the food at the Coliseum, perhaps best summed up by the Yelp reviewer who wrote that he "expected truck-stop egg salad sandwich" and instead got "one of the best steaks I have ever eaten."
As for the burgeoning business of medical marijuana — despite the hostility of the state's more retrograde law enforcement, attempts to zone it to death by Detroit government, and the enduring hostility of a state AG who's as anti-marijuana as they come — not only does the business survive, it's blowing our minds with the creative products and services it offers. Gone are the days when sick people had to visit dirty, unsafe traphouses to get their medicine. These days, it comes with service, and a smile.
For instance, look at our winning budtenders at Code Green: Buyers walk into a clean, orderly, professional atmosphere, a place where the staff is open to any questions, and ready to cater to all kinds of customers, whether new to medical marijuana or longtime experts asking hard questions. That kind of savvy extends to the whole staff at Fuego, which is known not just for having a friendly staff, but a well-versed one.
Then there's the proliferation of products, an array of offerings more sophisticated than ever. The selection of concentrates at House of Dank can be overwhelming. It has a wide selection featuring multiple brands, comprising of as many as 150 varieties of concentrate that come and go fast.
And the world of "medibles" has evolved far, far beyond the "pot brownies" of yesteryear. At Peoples Choice, they stock not just cookies and other confections, a surprising amount of which are prepared in-house, but some envelope-pushing stuff: CBD-only coffee, 8-ounce bottles of canna-infused olive and vegetable oil, cotton candy, and even "Pot Rocks." Their staff is ready to guide people through the basics or have an advanced discussion of cannabinoid systems.
An old-fashioned product that persists today is the "pre-roll." Our readers favor Depot Town, a dispensary proud to supply rolled smokes that are no filler, no sugar leaf, no trim, all "bud shake" — the stuff that falls off while processing the weights — from tip to end. Hey, sugar leaf and trim are fine for edibles or concentrates, but you should only get in a pre-roll what you'd find in your kief catcher. While we're at it, the shop's medical medley pre-rolls are made of a potent variety of strains to help keep you healthy and happy.
When it comes to supplies, our readers embraced an eclectic bunch of stores. In the Head Shops category, they chose Tha Head Shop, which boasts "the best selection of quality E-Juice and vaping accessories to the vaping community." For Best Smoke Shop, our readers chose a classic: The Station. A former Texaco gas station got into the paraphernalia business in 1973 amid the gas crunch and never looked back. The stores and dispensaries were rounded out with, for overall excellence in a dispensary, ADA East.

Best Adult Store
Lover's Lane
Multiple locations; loverslane.com

Best Budtender
Code Green
15500 E. 8 Mile Rd., Detroit;
313-649-2755

Best Concentrate
House of Dank
3340 E. 8 Mile Rd., Detroit;
313-305-4040; houseofdank313.com

Best Dispensary
ADA East
16555 Harper Ave., Detroit; 313-571-3108

Best Edible
Peoples Choice Alternative Medicine
2245 W. Liberty St., Ann Arbor;
734-369-8573; peopleschoiceofannarbor.com

Best Food in a Strip Club
Coliseum
11300 E 8 Mile Rd., Detroit;
313-527-6969; coliseum8mile.com

Best Head Shop
Tha Head Shop
737 E. 9 Mile Rd., Ferndale;
248-677-0178; thaheadshop.com

Best Place for Sexy Lingerie
Adam and Eve
Multiple locations; adamevestores.com

Best Place to Purchase a Sex Toy
Noir Leather
124 W. 4th St., Royal Oak; 248-541-3979; noirleather.com

Best Pre-roll at a Dispensary
Depot Town
35 E. Cross St., Ypsilanti; 734-340-2941; depot-town.com

Best Smoke Shop
The Station
25940 Michigan Ave., Inkster;
313-561-7969

Best Strip Club
Penthouse Club
20771 W. 8 Mile Rd., Detroit; 313-541-7000; penthousedet.com

Best Vape Store
Independent Vapor Company
Multiple locations; independentvaporcompany.com

Most Knowledgeable Dispensary Staff
Fuego
12632 E. 8 Mile Rd., Detroit; 313-821-4350