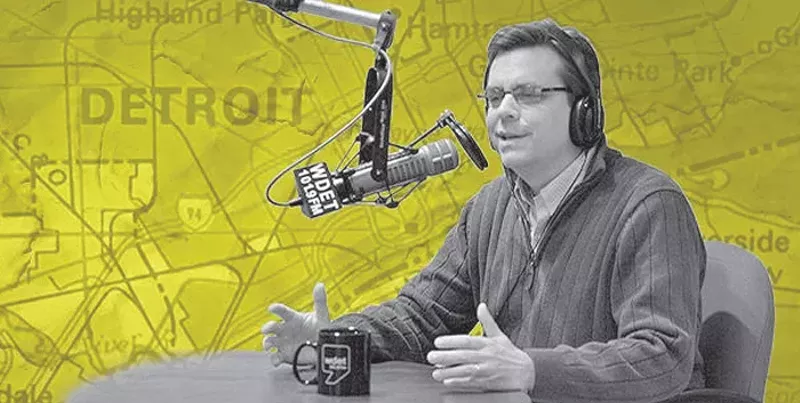 Detroit Land Bank Authority public affairs director Craig Fahle is stepping down from his post in an effort to return to his roots in broadcast media.
In a phone interview shortly after news broke that he'd be leaving the department, which has been plagued by a federal investigation into possible bid-rigging in its demolition program, Fahle tells
Metro Times
the decision was a personal one not rooted in anything going on with the Land Bank.
Three other high-ranking officials have resigned
amid the ongoing criminal probe.
"I always said when I took this job I would make it through the first term and then reassess," he says. "Frankly, I run into someone every single day that says 'do you miss the radio?' and 'when are we going to see you back on the radio?'"
Before taking a job at the Land Bank in 2014, Fahle was co-general manager of WDET and the host of its flagship morning show, then called
The Craig Fahle Show
, now known as
Detroit Today
. He got his start in radio in 1992 as an intern at WDET and, save for brief stints covering news in Lansing and Charlotte, North Carolina, has spent most of his career on the air at the public radio station.
Fahle turned 50 last year and will see his only child off to college this fall. He says it feels like the time is right to start a new chapter.
"I wanna work on a lot of different stuff and I've had ideas running through my brain for years, but in a job like this, you're laser focused," he says. "I'm taking a bit of a leap here, but I wouldn't feel true to myself if I didn't."
Fahle says he'll continue to assist the Land Bank for the foreseeable future with "special projects." His last day as public affairs director will be March 2.
Fahle says he has not yet solidified his next gig.
"There's a couple of things I'm working out," he tells us. "But it's fair to say that people will either be hearing or seeing me in the near future."
Asked whether we could expect to hear or see him locally, Fahle was coy.
"Never say never to any opportunity," he says.