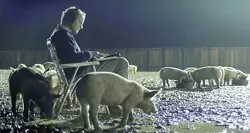 Upstream Color | B+
Writing about the plot to Shane Carruth's Upstream Color is a bit of a crapshoot. It's not because I'll be giving away any spoilers, but because you will likely think it sounds ridiculous — and I'd hate for that to be your reason to skip this bold attempt to fuse experimental and commercial instincts.
Upstream Color's narrative is mostly linear, but also unafraid to fragment time, loop exchanges, discard dialogue and construct its conflicts in a way that feels like stream-of-conscious filmmaking. Its plot isn't particularly complicated, but it is undeniably weird.
Part sci-fi body horror, part relationship drama and, — well, God only knows how to classify the last part. If you accept the movie on its own terms, you'll feel like you've been pulled into a creepy yet compelling dream. It's as if David Lynch and Terrence Malick collaborated to remake Invasion of the Body Snatchers.
The movie's first and most coherent act owes its unnerving atmosphere to Cronenberg-style freakishness. There are larvae living in the soil beneath colorful orchids that can be found upstream. When ingested, these larvae release a mind control substance that robs victims of their will, turning them into slave-like puppets.
A "thief" (Thiago Martins) discovers the larvae and forces a young businesswoman named Kris (Amy Seimetz) to consume one. Moving into her home, he systematically empties her bank accounts, steals all her material possessions and has her perform strange menial tasks, like transcribing Thoreau's Walden onto an interlocking paper chain. So powerful is the larva's effect that, at one point, the thief tells Kris his head is made from a piece of the sun and she turns away blinded by the light.
After weeks of enslavement, Kris is abandoned to pick up the pieces of her life. But first she must get rid of the full-grown worms that now crawl beneath her skin. This brings her to "the sampler"(Andrew Sensenig), an audio producer and pig farmer who hypnotically draws larva victims to his farm where he transfers the worms into his pigs. This allows him to be a psychic tourist of sorts, sampling the lives of those he's cured. (Hey, I told you it was weird.) This bizarre setup launches us into Kris' long, hard road back toward normalcy as she cautiously enters into a relationship with Jeff (Carruth), a man with his own secret past.
To say that Upstream Color rejects normal movie-making conventions would be an understatement. But much like his garage-bound time-traveling debut, Primer, Carruth's low-budget exercise in obscurity is clearly the vision of a singular artist. He is the movie's director, writer, actor, cinematographer, camera operator, editor, composer and distributor. Obviously, this one-man band approach gives him the power to be as willfully elliptical as he likes.
But I highly doubt Carruth expects anyone to take his story literally. It is not a puzzle to be solved but rather a journey to be experienced. As absurd as the plot reads on paper, Upstream Color is gripping in the way its story, true to its own internal logic, eventually falls into place. If there's a shortcoming, it's in the deadpan nature of its performances. While it fits Carruth's carefully established mood and atmosphere, it keeps us emotionally at arm's length, left only to intellectually ponder his ideas.
From plant to worm to livestock to human, Carruth's solemn, micro-budgeted meditation on man and nature seems to suggest only through love and forgiveness can we abandon our destructive cycles and achieve independence; or maybe not. Much like the ambitions of its creator, Upstream Color is unapologetic in its desire for free expression. And that means finding your own damn meaning. mt
Upstream Color opens on Friday, April 26 at the Birmingham Uptown 8. Rated: NR Run time: 96 minutes.