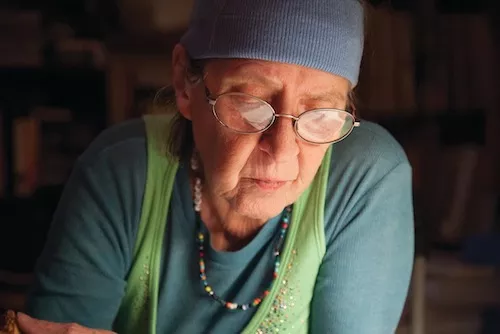 If you have more than a passing familiarity with Detroit rock 'n' roll, chances are you already know who Leni Sinclair is. She is now best-known for her photographs of seminal proto-punk banks from Detroit, such as the MC5 and the Stooges. In fact, you'll find some of her imagery in the upcoming Gimme Danger documentary.
That important work was largely a function of being in the right place at the right time. She had come to the United States in 1959, and became romantically involved with budding hippie activist John Sinclair, whom she married and with whom she co-formed the White Panther Party. A renowned visual historian, photographer, social and political activist, Leni documented Detroit's live music scene, from jazz to rock, in the 1960s and 1970s, snapping more than 50,000 shots in all.
This year, the Kresge organization recognized her as an "eminent artists," which is sort of our local version of the lifetime achievement award, although it comes with $50,000. Part of that award is an official monograph, or book, and it will be released on Tuesday as part of the official opening of an exhibit of her work entitled
The Music and the Times: Photographs by Leni Sinclair
. The general public will have the opportunity to attend, as well as to receive a free copy of the monograph by sending an email in advance.
The exhibit will feature highlights from Leni's career, as well as a looped Kresge Arts in Detroit-produced video telling her story. Leni will be in attendance, and will speak at least briefly, and will be on hand to mingle and sign books.
The opening of
The Music and the Times: Photographs by Leni Sinclair
is 6-9 p.m. Tuesday, Oct. 18, at the Wright Museum, 315 E. Warren Ave., Detroit; admission is free with emailed RSVPs sent to [email protected]; 21 and older only; exhibit to remain up through December; more info at thewright.org.