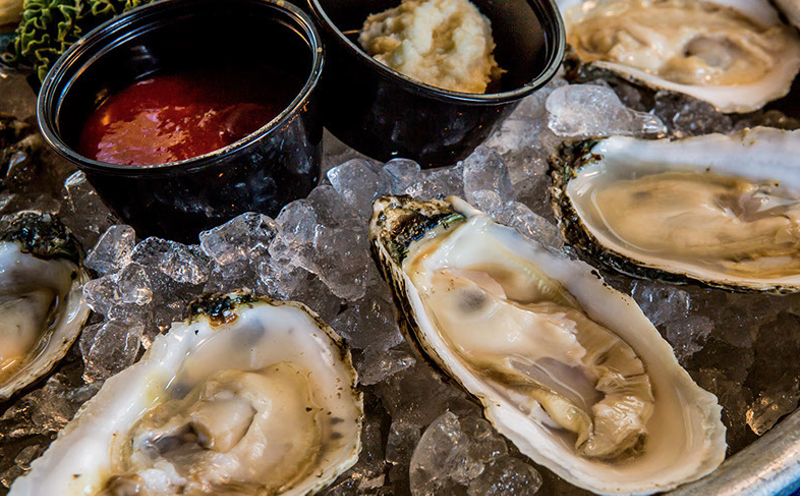 The son of Bert's Warehouse has a new Motown-themed restaurant called The Motown Bistro & Oyster Bar that's up and running in the Eastern Market.
Jai-Lee Dearing's 12o-seat, upscale concept — which sits in a former Bert's banquet hall adjacent to the restaurant — focuses on seafood but also offers steaks and other dishes. That includes options like lobster mac and cheese, lobster bites (tempura battered cold water lobster served with cajun aioli), blue crab potato skins, and the New York Oscar (New York strip steak served with lump crab meat, garlic compound butter, and a potato). Behind the bar are over 150 rare scotches and bourbons.
The interior is decked out with Motown memorabilia on loan from Dearing's cousin, former Motown Records exec Billy London. A high-energy press release from the restaurant offers a nice description of what's in store.
"Chic lighting, posh woodgrain throughout the restaurant, and a sleek baby grand piano featured prominently in the window all lend themselves to the sexy, upscale ambiance.

"The walls of the newly-renovated space are lined with gold and platinum records, Grammy Awards, rare pictures, and other items culled from London's personal collection to create a distinctively Detroit experience. Each of the bistro's nine booths is dedicated to a specific Motown artist or group, giving guests a different experience each time they come. Diners can watch a looping documentary in the Jackson 5 booth, or get romantic in the Marvin Gaye booth. Are you a Stevie Wonder fan? Not officially, until you've dined in the Stevie Wonder booth."
Dearing notes that the linen tablecloths, formally-attired waitstaff and maître d are a departure from the chill, soul food vibes of Bert's, but both venues love and offer the same music. Motown is booking live acts that will start at 7 p.m. each evening.
Aside from working as the manager of Bert's Marketplace — a restaurant that Dearing's father opened 30 years ago — Dearing opened the Rockefeller's Oyster Bar in Grosse Pointe Park, which closed after a fire in 2016.
So many restaurants, so little time. Find out the latest Detroit dining news with our weekly food newsletter delivered every Friday morning.