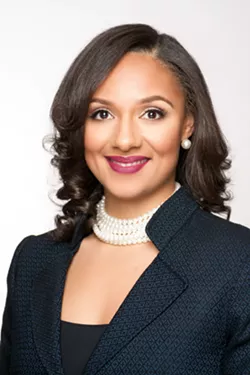 Early this month, Detroit City Councilmember Mary Sheffield, 30, made history for the second time in her relatively short political career when she was elected as the council's youngest-ever President Pro Tem. Earning support from four of her peers, Sheffield beat out Councilmembers James Tate and Jenee Ayers for the role. Four years earlier, Sheffield set a separate record, when she became the youngest person ever elected to council at the age of 26.
At the time, Sheffield was a community activist with a public affairs degree from Wayne State University known mostly for her last name. Her grandfather, Horace Sheffield Jr., was one of the first African-American leaders of a United Auto Workers local and helped stage the legendary 1941 Ford River Rouge strike that eventually led the automaker to recognize the UAW and require that all employees be members. Her father, Horace Sheffield III, is a prominent pastor and the executive director of the Detroit Association of Black Organizations.
The influence of Sheffield's father and grandfather are apparent in her politics. Guided by the notion that longtime Detroiters should be the primary beneficiaries of the city's resurgence, Sheffield has emerged as one of the council's more progressive members, often serving as a sort of check on gentrification. Her biggest achievement during her first term was an affordable housing ordinance mandating that developers receiving certain public subsidies set aside at least 20 percent of their rental housing units for people earning less than area median income. The ordinance also created a "trust fund" to help preserve or create affordable housing for people living near or below the poverty line.
But Sheffield — whose District 5 covers affluent areas, like Midtown and downtown, and some low-income neighborhoods — says she's pragmatic in her approach, seeking to balance fighting for the little guy with continuing to attract newcomers to the city.
"While a lot of my passion is [fighting homelessness and providing low-income] housing, I think people know that I'm a council member who represents everyone," Sheffield said in a wide-ranging, half-hour phone interview last week.
Below, we've transcribed her responses to some of our questions, including what it was like to go up against the Duggan administration on affordable housing, and whether she plans to capitalize on her political momentum with a run for the Congressional seat left vacant by former Rep. John Conyers.
***
Metro Times:
What was it like to grow up in your household and how did it impact you?

Mary Sheffield:
I remember growing up as a young girl protesting and marching with the Reverand Al Sharpton, and Dick Gregory and being around Greg Mathis and Martin Luther King Jr.'s family and just being around all these political activists just really shaped me into who I am today. My father kept me very close to him and I always had a chance to see him organizing and mobilizing around certain issues and it really helped me develop my own passion for public service.
MT:
Why is the issue of housing so important to you?

Sheffield:
If we look at Detroit and urban cores around the country, there's a housing crisis that people are experiencing. The lack of quality affordable housing, the need for more affordable housing, and really when we're seeing the rebirth of Detroit, the question becomes who can afford to live in downtown Detroit, and so we have to make sure that we're building housing not just for the rich. It's a passion for me to build communities where there's mixed [levels of] incomes. I think it's important that people of all ages and races come together… and I don't believe in low-income housing being secluded. It needs to be in urban cores and downtown areas where you have access to transportation and jobs and recreation and education and you're in areas where you see people who might make more than you. Studies have proven that those who are exposed to that are more successful in life and I think it's better for the economy in general.
MT:
You got some
push back from the Duggan administration
on the affordable housing ordinance and it didn't come out as strong as you would have liked. What did you learn from the way all of that played out?
Sheffield:
I think it's important to have a strong community voice [at the table]. I think when you hear personal stories of how an ordinance can impact a family or an individual or how someone was able to benefit because of low-income housing always works because you get to hear people's personal stories. But it's always been a challenge when you have developers and people who come who oppose certain things because of the financial implications or the fact that it may have a negative impact on the progress of Detroit. So balancing the two. You know, does the progress of Detroit mean that people who have been in Detroit can't have access to affordable housing? So it's always been a challenge in how do you have a conversation where — you know, we want progress, I want to see new development, I believe we need market-rate housing, but if it's gonna be on the backs of those individuals who've been here and can't afford to stay, maybe we don't need it.
MT:
You were out at the tail end of last year when council approved
$250 million in brownfield incentives
for Dan Gilbert's coming developments downtown, including the Hudson's site. How would you have voted on that, knowing the criticism surrounding Detroit's community benefits ordinance, which activists describe as doing little to hold developers accountable to the communities where they build?
Sheffield:
I would not have supported that. In fact, I was on record — because it did come to our Planning and Economic committee earlier — I was on record opposing that, needing more information, and really needing a strong community benefits agreement which was not in place whatsoever, and also there was a lack of affordability within the Hudson's structure, I think there was only gonna be five affordable units which they were willing to put into that structure, which I did not think was enough.
MT:
On the CBO issue, the folks who backed a
strong community benefits ordinance in Prop A
a couple of years ago are trying to have council
amend the ordinance
. Is that a proposal you would be willing to sponsor?
Sheffield:
I do foresee that coming up this term and I am absolutely looking forward to taking up that issue to figure out how we can strengthen the process that was approved by the voters. Proposal B (which passed instead of A), in my opinion, isn't true community engagement the way it's laid out right now, and so I am definitely an advocate for amending that ordinance to strengthen it in a way that really delivers community benefits for those who are impacted by development. [As for sponsorship], I know that was originally council president's ordinance and so I probably would appeal to her and her suggestions.
MT:
What ordinances do you plan to introduce this year?
Sheffield:
I'm looking forward to addressing the issue of water affordability. We have payment plans in place now, but [an ordinance on] some kind of income-based water affordability — we're looking at how we can have a tiered system. I'm also going to be focusing on is participatory budgeting, which [would help Detroiters] get more involved in the budgeting process. We have several hearings and budget presentations throughout March, and we never see anyone come down but they oftentimes complain about how their money is being spent, and so I want to see more of a participatory process where community can actually begin to have a chunk of the budget and really kind of just say where they want that money to go. And they actually have that in New York as well.
MT:
You have some momentum going, having been elected to Pro Tem. Are you going to throw your hat into the race for
Michigan's 13th Congressional District
?
Sheffield:
You know, honestly, at this time no, I have not considered a run for Congress, my focus is really just on city council and representing the citizens of District 5.