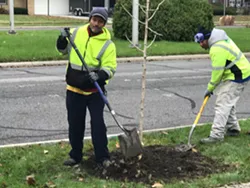 After more than a half-century in which disease and invasive species robbed Detroit of much of its tree population, officials are investing millions in making the city greener.
Over the next three years, crews will plant 10,000 saplings in neighborhoods that express an interest. All residents have to do is water the trees, which will go up in the publicly owned area between the curb and sidewalk.
"This is very exciting for me because of the beauty trees bring to a neighborhood," said Jerome Christian, 68, who now looks out at a small tree planted in front of his home in northwest Detroit's Aviation Subdivision. "Then you think about the utility conservation and the water conservation, it's a no-brainer."
Trees can also help lower pollution and add to property values, officials say.
Until now, Christian had been without a tree for more than a decade. The mature elm and ash trees that once shaded his home were killed by Dutch elm disease and the emerald ash borer. The tree disease arrived in Detroit in 1950, wiping out the stately elms that used to line Detroit's most prestigious streets. Tens of thousands of ashes planted in their place were wiped out when the invasive beetle made its way to Detroit in the early aughts.
This time, the city will plant a variety of trees in order to avoid the risks associated with monoculture. The trees going up will vary based on availability, but so far the city has planted ginkgos, lindens, maples, and oaks. They're all expected to have a lifespan of 40-100 years.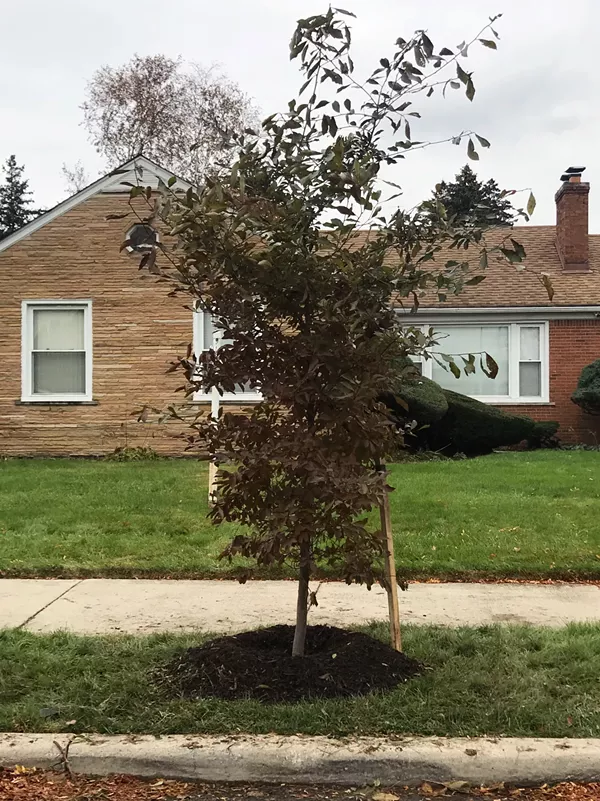 The tree in front of Christian's home is one of 900 that were planted in the first season of the city's effort. Over the next three years, it expects to have 10,000 trees planted at a cost of $3 million per year. Trees have gone up in the Grandmont Rosedale and Boston Edison neighborhoods, as well as the area of Meyers between 6 Mile and 7 Mile.
The effort comes as city-contracted crews remove 10,000 hazardous dead trees. An associate forester with the city says the largest and most dangerous ones are already gone.
For more information on the "10,000 Up" tree planting program, residents are asked to contact Forestry Manager Erica Hill at
[email protected]