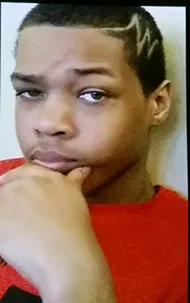 A Detroit teenager accused of shooting his mother will face several felony charges, the Wayne County Prosecutor's Office said Wednesday.
Last week, 14-year-old Tommie Lee Grady allegedly had a disagreement with his 38-year-old mother, pulled out a gun and shot her, before fleeing the family's northwest Detroit home on foot, police said. The mother was taken to a hospital to be treated for several gun wounds and has since been released.
Grady has been charged with assault with intent to murder, felonious assault, and minor in possession of a firearm, Prosecutor's Office spokesperson Maria Miller said in a news release. If he is convicted, the judge will determine whether he'll be sentenced as a juvenile, an adult, or if he'll receive a blended juvenile and adult sentence.
According to law enforcement officials, Grady allegedly shot his mother around 8 p.m. on June 11, and then pointed the gun at his brother before leaving the home. Grady was detained by Detroit police officers Wednesday morning in the 15300 block of Appoline, after he was spotted walking nearby.
A preliminary hearing is scheduled Thursday at 1:30 p.m. in the Juvenile Detention Center at 1325 St. Antoine Street in Detroit.