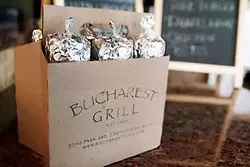 Get your restaurant expansion and development news round-up right here.
One of the city's favorite shawarma joints, Bucharest, is on a roll with its expansion efforts and is poised to open a third location Piquette Street in Milwaukee Junction later this year,
Eater Detroit reports.
Owner Bogdan Tarasov tells Eater he feels compelled to keep the growing chain within the city's limits and he hopes this newest location, just blocks off Woodward, will be a sleeper hit in the neighborhood.
Elsewhere in Brush Park, the
Freep's Sylvia Rector says the weeks-old Le Petit Dejeuner
adds to the city's breakfast game, with recipes honed by its proprieter Tina Motley of Farmington Hills. This new spot offers a family-style option so diners can share dishes with each other.
And downtown, MLive reports
that Wayne County has hired a management company to explore the possibility to turn a bank vault inside the Guardian Building into a restaurant. Wayne County Executive Warren Evans announced, according to the website that, an actual Union Trust Bank vault in the building's basement, could become a source of income for the cash-strapped county, if transformed into a restaurant.