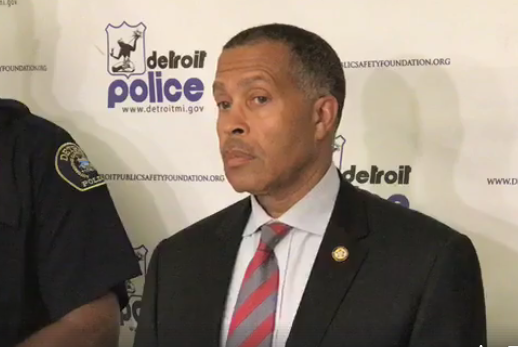 A Detroit police commander involved in a violent altercation that left a restaurant patron unresponsive in the hospital failed to disclose the incident and was not authorized to be moonlighting as a security guard, Detroit Police Chief James Craig says.
off duty
as a bouncer at Ottava Via in Corktown during the March 11 St. Patrick's Day Parade when he confronted a possibly intoxicated Michael Karpovich and took him to the ground. The incident landed Karpovich in the hospital, where he is on a ventilator with multiple skull fractures and a bilateral brain contusion, according to his lawyer.
Prior to a Tuesday morning news conference, DPD had offered little information on the incident that occurred nine days ago. Craig said officers weren't aware a member of the Detroit Police Department was involved until March 14. Two officers who responded to a 9-1-1 call the day of the parade said they were told by a security guard at Ottava Via that Karpovich was injured in a slip-and-fall, Craig said. It wasn't until days later that word came the incident may have been an assault, he said, prompting detectives to pull surveillance video and discover that a police commander was responsible for Karpovich's injuries.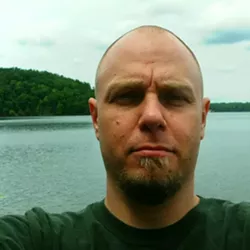 "There's no indication that Commander Leach notified any member of this department immediately following this incident," Craig said.
"Command officers are held to a much higher standard than a police officer," he added. "Command officers know better, and should know
better,
because they adjudicate matters involving force."
Craig said he had demoted Leach to the rank of lieutenant for failing to report the use of force. Leach is suspended with pay pending the result of an investigation.
Craig stopped short of calling what happened a cover-up. It's unclear whether Leach was at Ottava Via when responding officers stopped by to look into what happened. Another officer who Craig said was working security at the bar against department policy also did not report what happened, though Craig said he may not have known. That officer is facing disciplinary action for working in an unauthorized capacity, Craig said.
The chief could not say whether Leach's use of force was proper or improper based on his review of surveillance video. An investigation is underway to determine that, he said.
During the news conference, a horrific account of what happened emerged from a WXYZ-TV reporter who said he had spoken with an
eye witness
:
"He saw two bouncers dragging Mike, the victim, from the back of the bar to the front entrance to take him out, Mike was in no position to defend himself against two of them, one was Leach," said reporter Jim Kiertzner. "Leach grabbed Mike by his shirt under his chin, pushed him, Mike stumbled backward but caught his balance — then Leach forcibly shoved him causing him to fall to the ground.
"This witness says that Mike's feet actually became airborne," Kiertzner went on. "This witness says you could feel Mike's head hit the ground. Leach then tried to drag Mike's lifeless body out of the bar. Police
were
yelling at Leach to stop, he did stop, left, went to the back of the bar and continued to work the back gate like nothing happened. Witness says he was disgusted and mortified."
Kiertzner said the witness followed up last Monday with a call to the Third Precinct to relay what
happened,
but never heard back.
Leach is now the subject of an internal probe and a separate criminal investigation. The Homicide Task Force, which includes DPD and Michigan State Police officers, is handling the latter investigation.
Craig said Leach has a security consulting company that has in the past been authorized for off-duty work, but that the authorization expired. Craig said that, regardless of that status, he generally does not approve officers to work in bars or taverns.
Leach was promoted to commander by Craig in 2016, according to a report by
The Detroit Free Press
. In 2014, he came under fire as a captain for reportedly telling officers they had to meet ticketing quotas. According to
The Detroit News
, an order with his name typed at the bottom and issued to the 11th precinct read, "Every scout car is required to make three (3) traffic stops per shift and issue six (6) tickets." The
News
reports an investigation by Craig found Leach's name had been added to the order in error.
In 2016, Leach was named in a
document detailing race relations
within the DPD, and described as the "only African-American Commander ... reported to be abusive in tone and tenor and on one occasion calling an African-American male officer the N-word." The report by the Committee on Race and Equality relied on interviews with dozens of officers throughout the department.
This post was updated on March 21 at 8:40 p.m. to reflect that an investigation by Chief Craig determined Leach did not issue the 2014 ticketing quota.
Stay on top of Detroit news and views. Sign up for our weekly issue newsletter delivered each Wednesday.