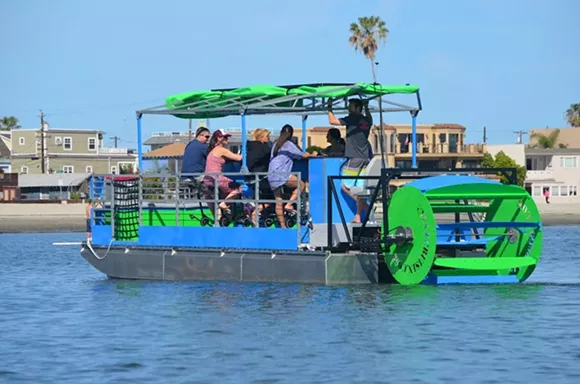 Last spring Nick and Jody Blaszczyk weren't yet married, but the young couple decided to take a chance and go into business together. Their brilliant plan? To own and operate a cycle pub in Detroit. A nebulous law threatened to encumbered their success, but they took the leap anyway.
Now, the partners in business and life run a successful company. You may have heard of it. The Detroit Cycle Pub is a popular way for folks to spend a day in the city, hitting hip bars along the way.
In the midst of getting their business going, they were also lobbying Detroit City Council to pass legislation that would make it legal for people to drink on these so-called cycle pubs and they succeeded. Last fall,
City Council voted unanimously to make it 100 percent legal for people to drink on cycle pubs
.
Now the Blaszczyks (along with business partner Tina Mighion) are adding to their growing cycle pub empire. The Detroit Cycle
Boat
now belongs to their fleet.
Nick Blaszczyk says they will launch Michigan's first cycle boat this May. While it's called the Detroit Cycle Boat, it will cruise through St. Clair Shores rather than Detroit proper.
The two-hour tour will leave from Watermark Bar and Grille, can accommodate 16 people, and will make a pit stop halfway through the the tour.
"People in Michigan love being on the water, but not everyone owns their own boat," says Blaszczyk. "Everyone hates being that person who asks their friend, 'Can we go out on your boat?''
Well, the Detroit Cycle Boat solves that problem. And it's not incredibly expensive either. Monday through Thursday you can rent the whole boat out for a $450 two-hour tour, Friday through Sunday tours are $525, which equals out to about $32 per person.
For more info, click
here
.