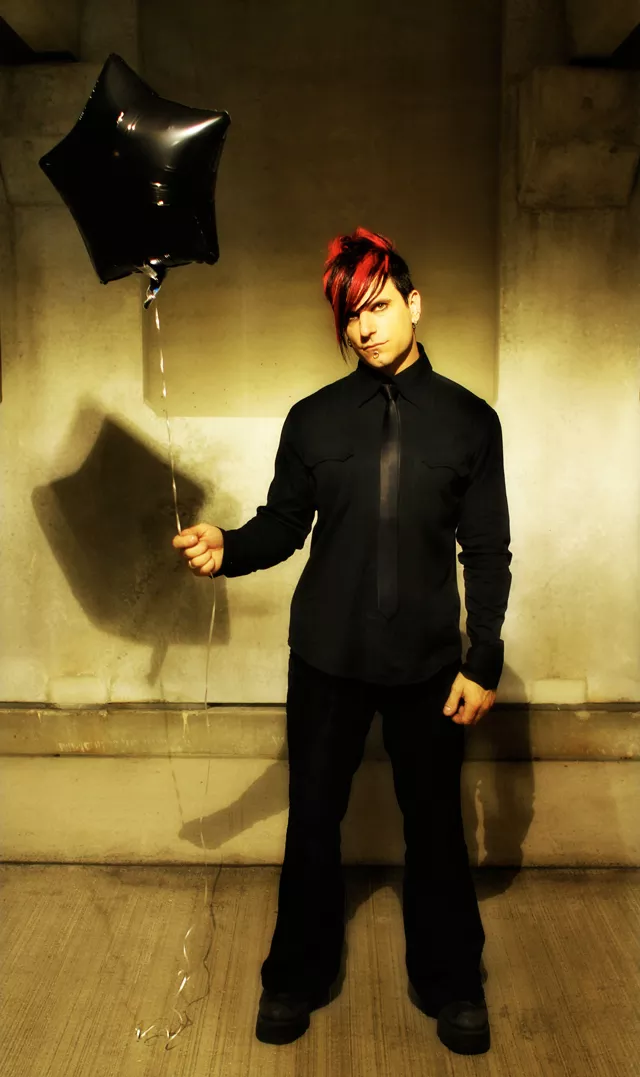 Celldweller, a fusion of industrial-electronic music, rock with the epic feel of orchestral music, is a one-man project consisting of a Detroiter via New York called Klayton, aka Scott Albert.
The musician is an internationally acclaimed artist, producer, songwriter, performer, programmer and re-mixer. His music has been featured in such films as Iron Man, Spider-Man 2 and Spider-Man 3, the video games Dead Rising 2, Baja 1000 and Need For Speed: Most Wanted, as well as the TV shows American Idol and UFC: Countdown. The dude is prolific. He has international cred too; Celldweller is touring Russia now, which made this interview, via Skype, particularly interesting.
Klayton came up in New York and found Depeche Mode, Front 242 and Skinny Puppy in the early '90s, began playing in bands with names like Circle of Dust and Angel Dust (the latter featuring magician Criss Angel). His interest in electronic music grew, and he relocated to Detroit around the end of that decade.
"I think that was a momentary lapse of sanity," Klayton laughs. "... Kidding. I needed a change from the place I was in, in New York — where I'd been all my life. I had good friends in Detroit and I was making an album here. It was on a whim ... I ended up finding a house, and I just picked up and left. I haven't looked back. I was going to go from New York to Detroit to L.A., where there's more film and TV work. As it happens, I've never left Detroit. I thought that the Detroit scene was really banging when I was about to move out, because this is where techno really was born, and it had a history of a really great club scene, but the market and the climate has definitely changed. It's not what it used to be, but the same can be said for New York. The scene was cool but it changed."
It actually doesn't matter where Klayton is, physically. And he digs it here.
"I spend such a long time making music ... I just don't go out a lot. I'm not really influenced by the local musical climate because what I do is more global — music for film and television, touring and that kind of stuff. I have friends in town, like Kenneth Thomas who is a really great DJ. I never miss the Movement festival though."
Celldweller is Klayton's very own project on purpose. "In other bands, I was the drummer, so I had no musical output besides getting behind drums, and I knew that was going to bore the crap out of me. I wanted to create music. When the guitar player walked out of the room, I'd pick up the guitar and figure out what he was playing. From there, I discovered electronic music, and the ability for one person to create the sound of an entire band. That was the beginning of the end for me."
A Celldweller live show is more than watching some guy spin records and fiddle with electronic gadgetry. Klayton is keen to give his audience more; for one, it's a multimedia presentation.
"I've always been motivated by shows — when you go to a show and feel like you get your money's worth," he says. "Video drives the entire show. There are a couple of drum kits on stage that we play simultaneously along with video that's been shot in advance. You're basically looking at us live on stage and other performers on video, all playing in sync with the music and the visuals. Still, there really is no concept to Celldweller, except that the name was born as a joke because friends and family made fun of me because I never left the cellar. Musically ... anything goes. Whatever I want to do, I do. I don't worry about musical boundaries. ..."
Celldweller released the debut Soundtrack for the Voices in my Head album in 2008, and Klayton is in the process of putting out the follow-up Wish Upon a Blackstar, in a rather unorthodox fashion. "I'm releasing it in pieces," he says. "I'm releasing two songs at a time, in chapters. Five chapters times two songs is 10 tracks. At the end of it all, I'll press up a physical CD and release it."
How will a Celldweller live show compare to those on these Russian dates? And how's the reception there?
"The kids in Russia are really receptive, and they're really into this new sound of electronic and rock," Klayton says. "The barriers have been broken. The younger generation don't really care about whether it's this style or that style; it's about whether it moves them. Is it cool? That's the fan base that we're seeing here in Russia. The Crofoot show ... we'll be filming a live DVD ... We'll also be filming a music video for my song 'Louder than Words,' but it'll be a different version of it. We'll up the production. Because it's a home-based show, we can do more production than if I'm flying or driving somewhere."
Celldweller plays Nov. 20, at the Crofoot, 1 S. Saginaw St., Pontiac; 248-858-9333.