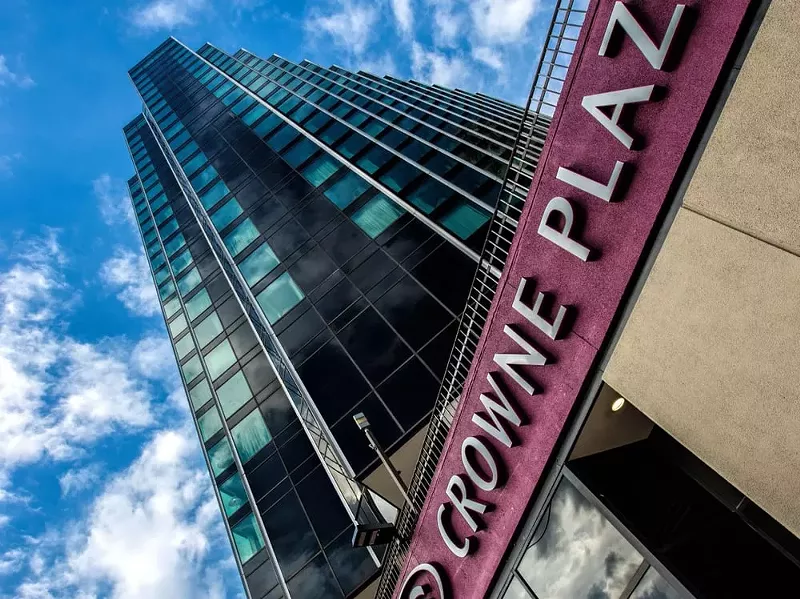 Detroit City Council has rejected a bid from the Crowne Plaza Hotel to build a second tower in downtown Detroit,
reportedly
expressing concerns over worker pay and the company's refusal to sign an agreement that could have increased the likelihood of workers forming a union.
Also at issue,
councilmembers
said, was the condition of the rooms.
Six
council members
voted no on Crowne Plaza's second request to build a new, $164 million tower yesterday. Council President Brenda Jones, Council President Pro Tem Mary Sheffield and Councilmembers Janee Ayers, Roy McCalister Jr., Raquel Castaneda-Lopez, and Scott Benson voted no. Councilmembers James Tate and Andre Spivey voted in favor.
Councilmember
Gabe Leland was out.
According to the
Detroit News,
some
councilmembers who voted no
pointed to the
hotel owner's failure to sign a neutrality agreement acknowledging workers' rights to form a union. Workers opted not to unionize in 2015.
The
News
reports that the council heard from a Detroit labor leader before making its decision:
Nia Winston, president of Local 24 UniteHere!, said Tuesday they are seeking a neutrality agreement with the employer. Winston spoke out against the project.

"We've sent such agreement," she said. "We've asked for conversations to discuss it. Yet the employer has maintained its position that there was a vote three and a half years ago, and that all the employees that were there then, they are there now, and their position has remained the same."

Winston noted there are some newer employees.

"Just like I've decided, and many others have decided in a unionized Detroit, that the workers should decide with no intimidation," she said. "A neutrality agreement will ask the employer to stay neutral. Not speak for or against, and let the workers to decide."

According to the
News
, the hotel's general manager said yesterday that the average pay at the hotel is $14 an hour. Detroit City Council has signaled it wants to see Detroit workers earning $15 an hour. Recently, the body passed a unanimous resolution urging the employers of about 1,700 unionized Detroit janitors to put them on the path to a $15 wage. After the resolution and a subsequent strike threat, three custodial contracting companies met that demand in a new collective bargaining agreement.
The
News
reports that the proposed tower hotel would create 250 permanent jobs. Notably, the Crowne Plaza GM says the company has not sought any tax incentives to offset the tower's $164 million cost. We're not aware of any major Detroit development built in recent years without tax breaks and we've followed up with corporate communications for Crowne Plaza to learn whether the company would seek tax abatements for the project down the road.

Stay on top of Detroit news and views. Sign up for our weekly issue newsletter delivered each Wednesday.