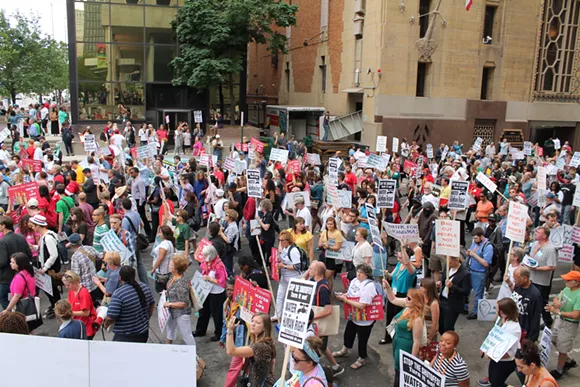 The judge overseeing Detroit's bankruptcy case has ruled he has no authority to
issue an order
that would temporarily prevent the Detroit Water & Sewerage Department from continuing to shut-off residential water service,
according to the Detroit Free Press
,
saying it would be detrimental to the utility's ability to generate revenue.
In doing so, U.S. Bankruptcy Judge Steven Rhodes highlighted a couple of major points that have been central to the debate over Detroit's water shut-off program, which has drawn international attention for months: Whether if Detroit is at fault for
allowing delinquent corporate accounts to maintain service
— while residents face shut-offs — and if there is a constitutional right to "free water." (A headline from the
Detroit News
following the ruling this morning reads:
"Judge won't stop shutoffs, says no right to free water."
)
To the first point, Rhodes
reportedly
determined today that Detroit has reasonable explanations to handle business and residential accounts differently, and that such a distinction doesn't violate equal protection laws. The optics of allowing some corporate accounts that owe millions of dollars in past-due fees to continue receiving water while residents with a $150 overdue bill can have their faucet turned off, however, remain up for debate.
To the latter point: This was never about "free water" — a point emphasized today by attorney Alice Jennings, who filed the lawsuit earlier this year on the behalf of
10 Detroit residents who asked Rhodes to halt Detroit's water shut-offs
.
"No one ever said the water had to be free," Jennings told the
Freep
after Rhodes issued his ruling. "Our position is the water had to be affordable. We're still looking for affordable water." The numerous protests and Jennings' lawsuit have called for an equitable payment plan for water service — a "water affordability plan." And there are
notable differences
between
the payment plans
Mayor Mike Duggan and the DWSD continue to urge the city's residents to enter into and such an affordability plan.
Writing at his blog on the ACLU of Michigan's website, Curt Guyette
describes those differences as such
: "The former extends the time period over which payments can be made. But a true affordability plan reduces the costs for poor people, basing rates on their ability to pay."
Simple enough. Yet that point has been painfully misconstrued over the last few months. Rhodes' reasoning for making the case that residents don't have a constitutional right to water access,
according to published reports
, appears to be grounded in the fact that Michigan law simply doesn't allow it. And while Rhodes' praised the
10-point plan introduced by Duggan
to tackle water shut-offs, he
reportedly
raised concerns about whether the plan will be sustainable in the long run, due to Detroit's pervasive poverty levels.
From the hearing, Matt Helms of the
Detroit Free Press
tweeted
that Rhodes said, "Detroit can only charge rates reasonable to operate its water system. Law makes no mention of ability to pay."
Judge Rhodes: State law says Detroit may only charge rates reasonable to operate its water system. Law makes no mention of ability to pay.

— Matt Helms (@MattHelms) September 29, 2014
In other words, under Michigan law, there's no right to pay for water based on one's income.
Clearly, that has been a fair legal argument to wage — whether or not state statute allows such a plan. But, if that's the case, that Detroit cannot legally implement an affordability plan, Guyette offered a suggestion on his blog:
If that is determined to indeed be the case, then an all-out effort needs to be made to change the law.