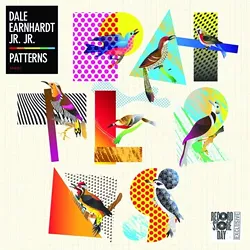 This band's name, like its music, is here to test you. Why so serious, you ask? They're not here to impress with their coolness — so they certainly aren't concerned if you scoff at their satirical title. Theirs is a quieter cool, a self-confidence that you'll surrender to their bass and keep moving to the beat.
Dale Earnhardt Jr. Jr., the local synth-pop duo that made it big, displays a penchant for experimentation; their dance floor is a laboratory in which they dissect and marry disparate styles, from Paul Simon to M83.
The release of their third EP, Patterns, should solidify the hype that followed their debut album. The lead single on Patterns, "If You Didn't See Me (Then You Weren't on the Dancefloor)" is a devastatingly catchy, shimmering gem of a dance-pop anthem. It's a buzzy neo-disco ballad that could easily fit right alongside your latest Passion Pit or Phoenix singles. Spin toward the later tracks and you'll find a keen sensibility for intricately layered, complex compositions and remarkable re-imaginings of what's possible inside a pop song. That's the best of both worlds, really.
Patterns employs elements of Spaghetti Western soundtracks (reverb-soaked whistling over trotting rhythms and a washboard for "Dark Water"), tasteful dashes of cheesy '80s-tinged rototoms with cartoonish clatter, under synthesized banjos ("Hiding"), and then they get really eclectic with "Habits," which incorporates sighing organs, atmospheric glitches and blips fringing the corners of what sounds like the closest thing to an electronica-pop drum circle session.
Their harmonies are solid, sleekly interwoven and eerily matched for peak aesthetic grace in tone. But, dulcet voices and eclectic dressings aside, enjoyment may depend on whether you feel like dancing, because this one's heavy on hook. There are extra pinches of saccharine synth effects and a relentlessly booming bass with sequenced beats to coax you.
If you're in the mood for post-millennial dance-pop, then DEJJ has curated an exemplary lineup of locals for its release show, including Detroit-based theatrical techno-rap and art-pop-blend Tunde Olaniran, with the even sweeter, sweat-drenched dance mixers of Grand Rapids' Stepdad.
Dale Earnhardt Jr Jr's PatternsEP Release Party (with Tunde Olaniran and Stepdad) takes place Saturday, April 20, at the Majestic Theatre, 4140 Woodward Ave., Detroit; 313-833-9700.
Jeff Milo writes for Metro Times. Send letters to [email protected]