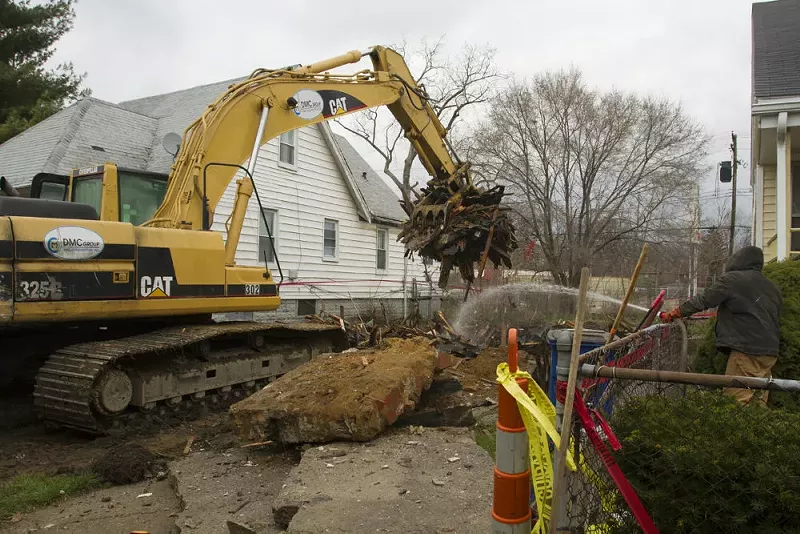 Detroit Councilwoman Mary Sheffield is calling for a U.S. congressional hearing over the city's federally funded demolition program.
Sheffield submitted a request for a hearing Tuesday, a day after
the Free Press reported that federal authorities
had widened their probe over potential environmental hazards from contaminated dirt.
"There is a stark difference between neglect and blatant disregard for the rules and safety of the residents of Detroit," Sheffield told the
Metro Times
Wednesday morning. "The recent
Free Press
article regarding the demolition program and the dirt used to backfill holes is troubling at best, and at worst, a cause for debarment for those involved. So today I am committing to do my part to ensure that Detroiters are protected and neighborhoods are not negatively impacted by demolition."
The newspaper article raised serious questions about whether demolition companies used contaminated dirt to fill holes created by razing houses. The run-off from contaminated dirt poses serious health risks.
Mayor Duggan has long claimed that the lack of dirt was responsible for the escalating costs of demolishing more than 10,000 houses since he took office in 2014. The city demolished the homes using federal money that originally
was intended to help financially struggling people
save their homes from foreclosure.
Reporter Charlie LeDuff first
broke news of the contaminated dirt
in August 2018.
In a memo obtained by
Metro Times,
Sheffield is requesting a detailed response from the Detroit Building Authority, which is responsible for oversight of the demolition program. The councilwoman also wants the city to "detail its protocols for verifying materials used to backfill holes left after demolition."
In addition, Sheffield is requesting correspondence from the state and federal agencies responsible for overseeing the demolition program.
"It is my intention to make what has transpired as fully transparent to the community and ensure that residents of Detroit are protected throughout the demolition process," Sheffield wrote in the memo. "As such, I intend to also call for a Congressional Hearing, open to public participation on the matter."
The demolition program has been
the subject of a grand jury investigation
for several years. Among the allegations are that Duggan appointees rigged bids and manipulated records. Some demo companies also are accused of getting paid for work they didn't perform.
In the summer of 2017, the city
was required to return $6.4 million
for improper expenses.
Experts also believe the demolition program is to blame for a significant spike in lead contamination.
Stay on top of Detroit news and views. Sign up for our weekly issue newsletter delivered each Wednesday.