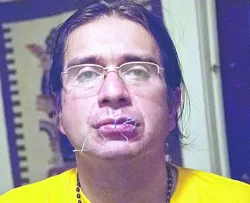 Looking for an answer to that question, News Hits has come to the home of Frank Hammer, a retired UAW international representative, former local president and longtime progressive activist.
Hammer set up a three-way interview, via Skype, and one of the participants is Jorge Parra, a former assembly line worker at General Motors' plant outside Bogota, Colombia. Also online is Paige Shell-Spurling, an environmental educator and supporter of the protesters. She lives in Portland, Ore., and volunteered to translate.
Joining us in Hammer's Detroit home is Melvin Thompson, a former president of UAW Local 140.
Parra, 37, the former GM employee in Colombia whose lips have been sewn shut, is no stranger to this dramatic act — he's done it twice — as part of hunger strikes he and a handful of others have engaged in during the past two years, attempting to draw attention toward their battle against the carmaker.
The men in Colombia all say that GM illegally fired them after suffering severe injuries on the job. Parra, for one, says he has needed surgeries on his hand and his back, each resulting from injuries sustained at work.
GM, for its part, adamantly denies any workers were fired because they were injured, and has successfully litigated most of these claims within the Colombian court system.
As part of their protest, 12 former GM employees set up camp outside the U.S. embassy in Bogota in April 2011. By the time you read this, they will have been camped in front of the embassy for more than 670 days.
What they want, as previously reported by Shell-Spurling, is for GM to: "1. Recognize their injuries as occupational; 2. Assume the costs of the corresponding medical treatment; 3. Pay pensions or disability to those who are so severely injured that they can no longer work or can only work part time, and; 4. Compensate workers for the economic damage that they have suffered, including lost wages and lost homes."
According to Parra, the Colombian government has been investigating a variety of allegations the men have made against GM, but unless action is taken by August, when the statute of limitations expires, they will be both out of luck and out of work.
Katie McBride, a GM spokeswoman in Detroit, says she's not aware of any looming deadline.
Hoping to draw attention to the issue, Hammer, the retired UAW representative, is planning a protest for Thursday, June 6, to coincide with GM's annual stockholders meeting at its Renaissance Center headquarters.
"I was fired by General Motors' Colombian subsidiary after becoming injured on the job. I entered the Colmotores plant healthy in 2004, as GM's medical records demonstrate, but left 8 years later with herniated discs, carpal tunnel syndrome in both hands, and tendinitis in my shoulders and elbows," explained Parra in a previously issued statement. "I organized an association called ASOTRECOL to protect the human rights of GM workers and ex-workers and to denounce the abuses committed by GM."
Last January, activists delivered petitions to GM they claimed were signed by more than 76,000 people "from around the world" urging the automaker, which had made a final settlement offer to the injured workers in August of 2012, to return to the negotiating table.
In addition, a protest of support was held earlier this year at the North American International Auto Show in Detroit. Thompson, the former president of UAW Local 140 who joined News Hits for the Skype interview, led the auto show protest. He says he also went on a 20-day fast in support of the Colombian workers.
Despite it all, says Parra, GM has refused to reopen negotiations.
In a phone interview, McBride, the GM spokesperson, confirmed previously published reports that the automaker offered $160,000 for programs for the workers and their families, and about 15 months of their average monthly salary, 15 months of health care benefits and two years of higher education.
The company's final offer, which was made last year, is one McBride says was "very generous." She also noted that the protesters have tried to circumvent the courts by working outside the legal and mediation process, and that's something the company won't do.
"We took their claims very seriously," says McBride, who says that a team of GM executives was dispatched to what's officially known as the GM Colmotores Plant in Bogota, Colombia. The execs found the plant met GM's high standards, says McBride.
She adds that Parra and other fired and injured workers — there were 68 of them when the protest began — were seeking millions of dollars in compensation.
"About 60 cases went through the legal system," says McBride. "In all but two of the cases, the rulings were in favor of GM."
Parra says GM's final offer failed to cover even the medical expenses of the injured workers let alone provide the kind of compensation that would allow them to be able to support themselves and their families. With the men in their 20s and 30s, they face decades of hardship without adequate compensation, he says.
"We took their concerns seriously and respectfully," says McBride. "When they walked away, we felt there was nothing more that could be done."
As for the claim that the government is a fair arbiter of worker grievances, Parra says the very notion of that is laughable. He's far from alone.
"For decades, Colombia has witnessed painfully high levels of anti-union violence; in 2012, the most recent year for which there is data, Colombia remained the most dangerous country in the world for trade unionists," reports the Washington Office on Latin America, a nonprofit organization that promotes human rights, democracy, and social justice in Latin America and the Caribbean.
The group notes that, two years after the signing of the U.S.-Colombia Labor Action Plan, "little change is seen on the ground: According to Colombia's National Labor School, at least 20 trade unionists were killed for their work in 2012, and 431 threats were recorded."
Which is why Para and his fellow protesters continue in their efforts to generate public pressure on both GM and the Colombian government.
Asked why he thought people in Metro Detroit should be concerned about the fate of injured workers in Colombia, Parra, who was in Michigan when the Legislature passed the so-called "Right-to-Work" law last year, says the assault on unions is hardly limited to Colombia.
"All you have to do is look at what's going on in Colombia and you can see what is gradually happening to you," he contends.
Which brings us to that image of him with his mouth literally sewn shut, and the question of why anyone would do that to himself?
He talks about the difficulty of struggling against a corporation as powerful as General Motors, especially in a country as hostile to organized labor as Colombia, and the need to gain broad support in what he describes as the struggle for justice that he and others are engaged in.
"We need to express the impotence we felt as poor workers," he says. "After you sew your lips shut, you can't turn back. You have to keep going on. We felt like there were no other options. We are desperate."
News Hits is written by Curt Guyette. Contact the column at 313-202-8004 or [email protected]