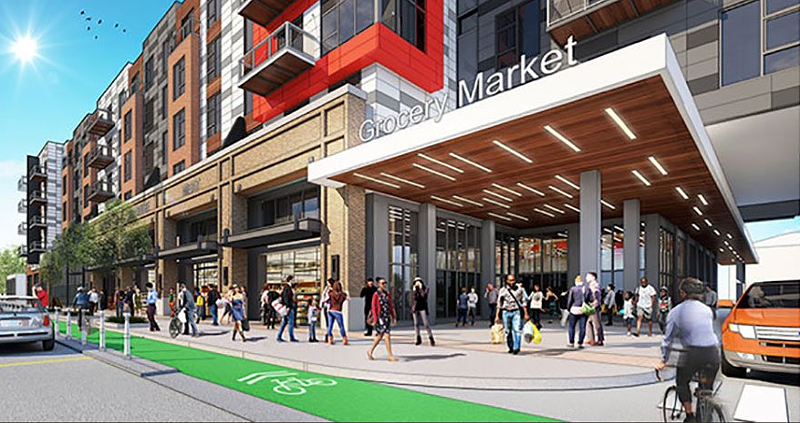 On Wednesday afternoon
Crain's
reported that a new Meijer grocery store with attached residential apartments was planned for a spot on East Jefferson near downtown Detroit. Today the city of Detroit confirmed this information.
The $60 million development is expected to be open by 2019, and will employ 70 people. The city says that there will be 213 residential units included in the development with 20 percent affordable housing.
This new Meijer won't be like the city's other two Meijer stores. The new store will be about
a fifth of the size as a normal Meijer
, something that the Grand Rapids-based company is testing out in its home city with another small-format store that will open next year.
The development itself set to be 220,000 square feet. The 213 apartment buildings will sit on top of the 42,000 square-foot grocery store, and an underground parking garage with 350 parking spaces is reportedly a part of the development as well.
"It's just another great day in Detroit," Detroit Mayor Mike Duggan said on Thursday at the site of the future store, which used to be the former University Club headquarters. The building was demolished in 2013 after vandalism and decay to the building.
We announced a $60M retail/residential project. There will be 213 residential units with 20% affordable housing & a @meijer grocer. pic.twitter.com/vk7sFvroDc

— City of Detroit (@CityofDetroit) October 26, 2017