February 24, 2014 Slideshows » Blogs
Check Out These 16 Vegetarian/Vegan-Friendly Places Around Detroit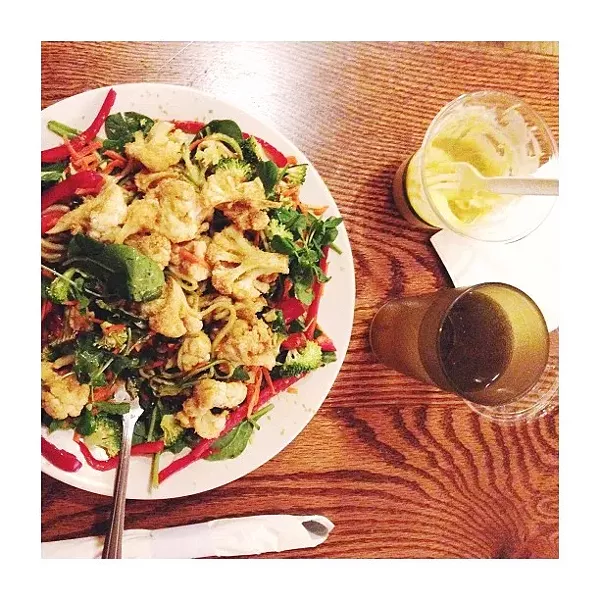 Cacao Tree Café includes a menu full of "detox cuisine" as well as other exquisite vegan, raw, and organic choices.

204 W. Fourth St., Royal Oak; 248-336-9043. (Photo taken by instagram user @laurynbyrdy)
Not only does Cass Café offer a wide selection of vegetarian food choices, including its famous lentil burger, it also includes a full service bar and an art gallery.

4620 Cass Ave. Detroit; 313-831-1400.
Detroit Vegan Soul is a 100% vegan cafe that offers a wide selection of traditional soul food recipes. They also offer gluten and soy free options.

8029 Agnes St., Detroit; 313-649-2759.
Come to Earthen Jar to enjoy mostly-vegan, buffet-style, eat-by-the-pound cuisine. Not only is it cheap, but it is great food made with local ingredients- including dairy from Calder's.

311 S Fifth Ave., Ann Arbor; 734-327-9464.
Part of the Innate Healing Arts Center, Golden Gate Vegetarian Café offers gourmet, vegetarian cuisine made with local ingredients and offer daily specials that are sure to please.

18700 Woodward Ave, Detroit; 313-366-2247.
Famous for their delectable falafel, Jerusalem Garden has a cornucopia of vegetarian options available. This family-owned eatery delivers their own recipes at a refreshing value.

307 S. Fifth Ave., Ann Arbor; 734-995-5060.
Motor City Brewing Works serves up carefully constructed, brick oven pizzas, most of which are vegetarian, along with a full service bar, beers brewed on site, and events like "This Week in Art."

470 W. Canfield St., Detroit; 313-832-2700.
Om Café offers a full menu of vegetarian and vegan options. Not only is the food delightful, but the environment is cozy and welcoming. (They don't hold normal hours, so be sure to check beforehand.)

23136 Woodward Ave?., Ferndale; 248-548-1941.
Palm Palace's menu includes a lot of options for vegetarians and omnivores alike. Stop in for some of the best hummus, falafel, and grape leaves around.

2370 Carpenter Rd., Ann Arbor; 734-971-5700; 2065 N. Squirrel Rd., Auburn Hills; 248-371-9000; 15750 Hall Rd., Clinton Township; 586-416-4800.
Most people recognize PJ's Lager House as a great place to catch live, local music, which is true, but it also boasts a menu with a slew of vegetarian options, like the otherworldly barbecued tempeh.

1254 Michigan Ave., Detroit; 313-961-4668
Republica offers vegetarian, vegan and gluten-free options. To wash down the terrific food, take your pick of tasty Michigan craft brews. The gastro-pub is now offering half-off small plates during happy hour.

1999 Coolidge Hwy., Berkley; 248-268-3175.
Capturing the spirit of Indian street food, Neehee's is a unique vegetarian restaurant. Family-owned and operated and preparing meals using only the freshest ingredients, Neehee's promises an atypical Indian experience.

45656 Ford Rd., Canton; 734-737-9777
Krishna Catering & Restaurant provides a home-cooked meal, with Northern and Southern Indian, as well as Chinese fusion recipes. Since 1994, the Patel family has put love and care into their menu. They offer daily specials, including the $5.99 all-you-can-eat buffet on Tuesdays.

28636 Ford Rd., Garden City; 734-513-3663
With the Ann Arbor location being open since 1973, and the newer Detroit location in Midtown, Seva is synonymous with vegetarian cuisine in Metro Detroit. Both locations boast a friendly atmosphere in which to enjoy selections off their huge menus.

66 E. Forest Ave., Detroit; 313-974-6661

314 E. Liberty, Ann Arbor; 734-662-1111
The Lunch Room in Ann Arbor puts as much care into crafting their nutritious, vegan recipes as they do in selecting the best ingredients that are locally-grown and sustainable. A unique feature of the restaurant is the meal plan they offer to pass along savings to patrons.

407 N 5th Ave., Ann Arbor; 734-224-8859
Inn Season Café has been a vegetarian staple in Metro Detroit for a long time and it has only gotten better with age. Come see what savory vegetarian and vegan options that Inn Season Café has to offer.

500 E. Fourth St., Royal Oak; 248-547-7916.